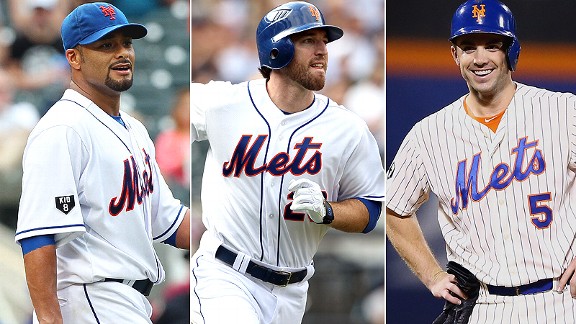 US Getty Images
The Mets need huge seasons from Johan Santana, Ike Davis and David Wright to have any hopes of 2013 success.
Let's be honest: The trade of R.A. Dickey has given Mets fans every reason to punt on the 2013 season.
Yes, you're looking ahead to 2014 and 2015, but 2013 comes first.
And maybe, just maybe, there's a way we can pretend that the Mets could be contenders this year.
So that got me thinking -- what is that one combination in 100 that puts the Mets into October?
I did an exercise a couple of weeks ago in which I tried to assess the Kansas City Royals' chances of winning the AL Central and I'll try to employ a similar methodology here.
We start with the idea that every major-league team, even one made up entirely of "Quadruple-A players," is going to win at least 52 games.
We then take the approach that if you sum a team's total Wins Above Replacement that it gets from its roster, and add that to 52, you're going to get a number that is reasonably close to that team's win total.
It is not a perfect formula by any means, but for the purposes of what we're trying to do, it suffices.
In our case, the target number we're going for is 38. Why 38? Because the five NL playoff teams last season averaged 38 Wins Above Replacement for the season.
The 2013 Mets finished with 20 Wins Above Replacement last season. There's a big gap between 20 and 38 (especially with Dickey gone), we don't dispute that.
But on we go.
The Foundation
The chart on the right lists the most important players on our dream-world 2013 Mets. Here's what we'd be asking for from them.
What's Needed From The Core
To Make Playoffs in 2013
-- David Wright having a repeat of his 2012 season (6.7 WAR, tied for 8th in MLB). We'll bump him to 7 WAR.
-- Ike Davis returning to the skill level he showed as a rookie and posting a 3-WAR season. He was an 0.7 WAR in 2011. For him to get to 3-WAR, we'd need two considerable improvements: Batting average and defensive play.
-- Daniel Murphy and Ruben Tejada forming a respectable double-play combination. The pair was worth a combined 3.1 WAR last season. We have them pegged for 2.5 apiece.
What does a 2.5-WAR second baseman look like? Last season, it was Pittsburgh Pirates second baseman Neil Walker (.280 BA/.768 OPS, 14 HR, -4 Defensive Runs Saved). Can Murphy be Walker? If the Mets are going to make the playoffs in our dream world, he has to be.
Tejada was a 1.9 WAR last season. He could get to 2.5 by being a little bit better defensively and by playing 140 games instead of 114.
-- Since we're presuming that just about everything goes right for this imaginary Mets team, we're going to make Travis d'Arnaud into someone who makes a big impact right away. Maybe not Buster Posey big, but a 2.5 WAR would be huge for a catcher in his debut season.
-- In Dickey's absence, the pitching staff needs its starters to step up to the challenge. Bumping Jonathon Niese from 3 WAR in 2012 to 4 WAR in 2013, which takes him from being a top-35 pitcher to being a top-15 pitcher. In other words, he morphs into Cole Hamels.
-- Matt Harvey's promising start likely raised expectations for his sophomore season. We pushed them to the max, basically giving him the numbers that Niese finished with in 2012. That's why he's pegged for 3 WAR.
-- Now let's say that Zack Wheeler comes up around the same time as d'Arnaud and has a respectable debut. That's two more Wins Above Replacement.
Let's pause here and restate everything we're looking for:
-- An MVP-caliber season for Wright
-- Davis, Murphy, Tejada rate above average at their positions
-- Big immediate impacts for d'Arnaud and Wheeler
-- Niese becomes a top-15 starter
-- Matt Harvey becomes a top-35 starter
All of that adds up to 26.5 wins.
We still have 11.5 wins to go.
And really, it's more than that, because inevitably the performance of your pitchers as hitters and those additional call-ups/acquisitions who don't perform well is probably going to be about 7.5 wins (the five NL playoff teams lost an average of 7.4 to sub-replacement performance last season).
So now we're looking to somehow squeeze 19 Wins Above Replacement from the rest of the team.
And what's left to assess?
The outfield ("what outfield?" as Sandy Alderson might say), the bullpen, and the bench. Oh, and one other guy.
Johan
Unless you're planning on making Dillon Gee or Jeremy Hefner a Cy Young contender, Frank Francisco Fireman of the Year, Lucas Duda an MVP candidate or Mike Baxter and Kirk Nieuwenhuis All-Stars, there's no way to conjure up 19 wins from what's left.
Unless we make the big presumption that the Mets get a good return on the $20+ million they have invested in Johan Santana's 2013 season.
That would be a surprise of perhaps a greater magnitude than R.A. Dickey's 2012.
But if we're talking about the Mets amazin' run to a postseason in 10 months, we're going to be talking surprises. Like that Johan Santana is one of the 10 best pitchers in the majors again.
So put Santana down for 5 Wins Above Replacement.
Everyone else
We're still a long way from making these Mets a playoff team -- about 14 wins away.
The chart on the right lays out a way by which the Mets can get them.
What's Needed in 2013
For Mets to Make Playoffs
In short, the Mets would also need:
-- Lucas Duda to produce the 2-WAR they'd rather have gotten from Ryan Ludwick, and Dillon Gee to turn into Mike Pelfrey and his 2-WAR circa 2010.
-- The Kirk Nieuwenhuis/Collin Cowgill platoon to hit, run, and field -- and do all three well.
-- Frank Francisco to pitch like he did in 2011 (3.55 ERA, 1.1 WAR) and not 2012 (5.53 ERA, -0.7 WAR) and to do better in support of Bobby Parnell (1.3 WAR) so that he doesn't suffer any undeserving defeats.
-- John Buck, and Justin Turner not to hurt them like Jason Bay hurt them in 2012. And Jeremy Hefner, Jeurys Familia, and Josh Edgin to resemble the Manny Acosta of 2010 (2.95 ERA, 0.6 WAR) and not 2012 (6.46 ERA, -1.2 WAR).
-- Player X (our code name for the outfielder that may turn out to be Scott Hairston) to be what Hairston was in 2012 (1.5 WAR) and Pitcher X (our code name for the veteran pitcher they're likely to sign) to be an Orlando Hernandez circa 2006 clone (1.2 WAR) and for Jenrry Mejia to be serviceable when asked to replace him.
In other words, they still need a heck of a lot.
And in conclusion…
You may have seen that Dan Szymborski's ZIPS projections peg the Mets for 66 wins this season. AccuScore and PECOTA will likely churn out similar guesses in the next few weeks.
Those are legit, soundly based projections and it's perfectly reasonable to buy in and believe in them.
But fans of the Baltimore Orioles and Oakland Athletics were probably reading similar predictions at this time a year ago. And those teams went on to make the postseason.
If you asked me right now what the Mets' chances are of making the playoffs, I'd probably say 100-to-1. Szymborski has it even worse. He said the Mets made the playoffs in 0.8 percent of his simulations.
But there's always that chance. That's why we watch, right?