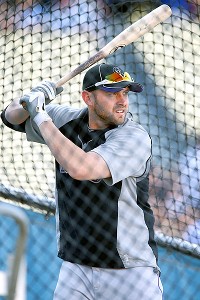 Larry Goren/Four Seam Images/AP Images
Andrew Brown has signed a minor league deal with the Mets that includes a spring training invite.
The Mets have signed righty-hitting corner outfielder Andrew Brown to a minor league deal with a spring training invite.
Brown, 28, has hit a combined .224 with five homers and 14 RBIs in 134 at-bats over two seasons in the majors, with the St. Louis Cardinals and Colorado Rockies. Twenty-four of his major league starts have come in right field, with the other nine in left field.
In the minors, Brown has appeared in 239 games at first base, 137 games in right field, 120 games in left field and 42 games at third base.
The Mets still likely will try to add a starting outfielder such as Scott Hairston. In the interim, the depth chart would appear to be Lucas Duda in left field, a Kirk Nieuwenhuis-Collin Cowgill platoon in center field and a Mike Baxter platoon with Brown or Brian Bixler in right field.
Lefty-hitting Jordany Valdespin also is on the 40-man roster.