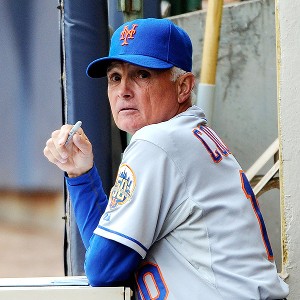 Benny Sieu/US Presswire
Terry Collins' contract expires after the upcoming season.
The Mets picked up Terry Collins' 2013 option at the end of the 2011 season. That way, Collins did not have to manage last season in the final year of a deal.
This time, however, Collins appears poised to enter a season technically as a lame duck. His existing contract expires at the end of the upcoming season.
"Look, it would be disingenuous to say, 'No, it won't be an issue,'" Sandy Alderson told ESPNNewYork.com. "Sometimes it becomes an issue. I think it's a function of whether Terry makes it an issue, or the club makes it an issue, or the media makes it an issue.
"I don't think the club or Terry will make it an issue. If it does become an issue, we'll manage the issue. I understand the possibility it could become something. I hope it doesn't."
Alderson nonetheless offered no indication he was trying to prevent the potential issue from arising by locking up Collins now for 2014 and beyond.
"I haven't yet," Alderson said.