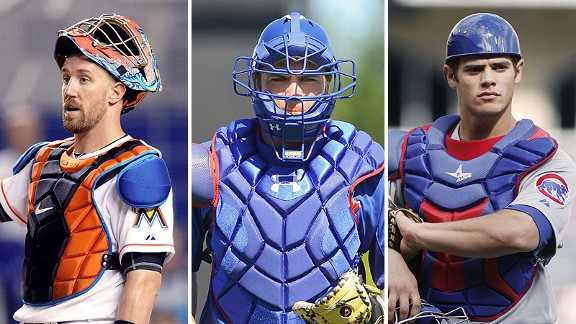 USA Today Sports, Getty Images
The Mets' Opening Day catching ensemble is expected to include (l to r) John Buck and either Travis d'Arnaud or Anthony Recker.
Travis d'Arnaud, the premier prospect the Mets acquired from the Toronto Blue Jays in the R.A. Dickey deal, may very well open the season at Triple-A Las Vegas.
Regardless of the decision with d'Arnaud, Sandy Alderson acknowledged, the team's Opening Day catchers likely already are on the 40-man roster.
If d'Arnaud -- who turns 24 next month -- opens the season in the minors, which appears the logical scenario, John Buck probably will be backed up by waiver claim Anthony Recker to open the season.
The Mets' additional catching pickups most likely will be on minor league deals as inventory for Triple-A.
"Right now we have three catchers on the [40-man] roster," Alderson said, referring to d'Arnaud, Buck and Recker. "And we don't have a tremendous amount of depth at Triple-A or Double-A. So it's conceivable we'll add a catcher or two. I can't tell you what quality they might be because I can't tell you who is going to be left on the market over the next couple of weeks. It's not something we're highly concerned about.
"I would say it's likely that some combination of those three will start the season for us."
D'Arnaud (pronounced Dar-No) has played only a half-season at the Triple-A level because of a season-ending posterior cruciate ligament tear in his left knee, which he suffered last June 25. So having the prospect open the season in the minors makes sense from that perspective.
It makes sense from a business perspective, too. If d'Arnaud spends the first 20 days in the minors before being promoted, it will delay his free-agency eligibility a year, until after the 2019 season.
Buck, 32, hit .192 with 12 homers and 41 RBIs in 343 at-bats last season with the Miami Marlins. The Mets will pay his entire $6 million salary in 2013.
Recker, 29, has hit a combined .152 with one homer and four RBIs in 66 career major league at-bats, with the Oakland Athletics and Chicago Cubs.