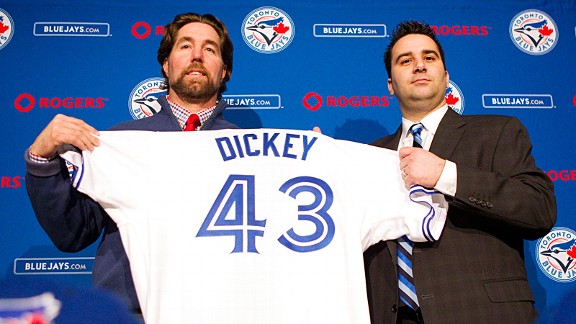 Chris Young/Associated Press/The Canadian Press
R.A. Dickey displays his jersey Tuesday at a press conference in Toronto, with GM Alex Anthopoulos.
Here's the Associated Press recap of R.A. Dickey's formal press conference Tuesday in Toronto ...
TORONTO -- New Toronto ace R.A. Dickey said Tuesday he's thrilled to join a team that's "all in" to win the World Series and thankful the New York Mets did not meet his contract demands.
The Blue Jays formally introduced Dickey at Rogers Centre after acquiring the National League Cy Young Award winner from the Mets last month.
Dickey said the Mets helped him cultivate his knuckleball and said there is no acrimony between him and his former team, but he's glad to be moving on.
Read the full news story here.