The Mets have invited right-handers Rafael Montero and Cory Mazzoni, catcher Juan Centeno, infielder Josh Satin and outfielder Matt den Dekker to major league camp for spring training.
Players on the 40-man roster automatically are in camp. Those prospects include Zack Wheeler, Travis d'Arnaud, Gonzalez Germen, Darin Gorski, Hansel Robles, Wilmer Flores, Zach Lutz, Wilfredo Tovar and Juan Lagares.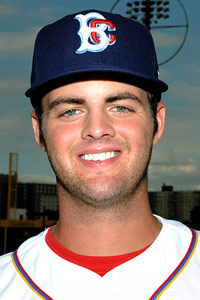 Courtesy of Brooklyn Cyclones
Cory Mazzoni
Here are the Mets-produced capsules on the five invites:
Montero, 22, went a combined 11-5 with a 2.36 ERA (32 earned runs/122.0 innings) and 110 strikeouts in 20 starts for Savannah (A) of the South Atlantic League and St. Lucie (A) of the Florida State League. The 6-foot-2, 168-pound native of San Cristobal, Dominican Republic, went 6-3 with a 2.52 ERA (20 earned runs/71.1 innings) in 12 starts for the Sand Gnats and 5-2 with a 2.13 ERA (12 earned runs/50.2 innings) for St. Lucie. The Mets signed the right-hander as a non-drafted free agent in 2011.
Mazzoni, 23, split last season between St. Lucie and Binghamton (AA) of the Eastern League, making a combined 26 starts and earning a spot on the midseason Florida State League All-Star team. The 6-1, 190-pound native of Evans City, Pa., went 10-6 and compiled a 3.93 ERA (63 earned runs/144.1 innings) with 104 strikeouts and 36 walks. The Mets selected the right-hander in the second round of the 2011 First-Year Player Draft.
Centeno, 23, hit .285 (80-281) with 12 doubles and 35 RBIs in 79 games for Binghamton last season. The 5-9, 172-pound native of Arecibo, Puerto Rico, made his pro debut in 2007 with the Gulf Coast Mets. The Mets selected Centeno, who bats lefty and throws righty, in the 27th round of the 2007 First-Year Player Draft.
Satin, 28, had one at-bat with the Mets last season, striking out in his only major league action. He spent the remainder of the season with Buffalo (AAA) of the International League, hitting .286 (126-441) with 14 home runs and 60 RBIs in 131 games. The 6-2, 200-pound native of Hidden Hills, Calif., made his major league debut in 2011, hitting .200 (5-25) in 15 games with the Mets. The club selected Satin, who throws and bats righty, in the sixth round of the 2008 First-Year Player Draft.
Den Dekker, 25, appeared in 135 games between Binghamton and Buffalo last season, hitting .274 (146-533) with a career high-tying 17 home runs and 76 RBIs. The 6-1, 205-pound native of Fort Lauderdale, Fla., who bats and throws lefty, hit two grand slams with the Bisons: Aug. 6 at Syracuse and Aug. 14 vs. Lehigh Valley. The Mets selected the outfielder in the fifth round of the 2010 First-Year Player Draft.