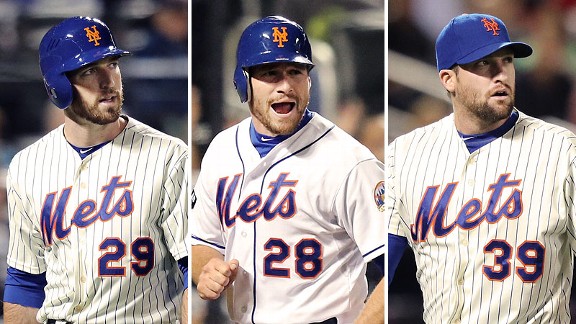 USA Today Sports
Ike Davis, Daniel Murphy and Bobby Parnell are poised to file for arbitration today.
The players' union on Tuesday night will announce which players have filed for arbitration. And, barring a settlement in the next several hours, all three eligible Mets -- Ike Davis, Daniel Murphy and Bobby Parnell -- are poised to be on the list, multiple industry sources told ESPNNewYork.com.
While a team insider would not rule out a multi-year deal ultimately materializing with one of those players, there are no current talks that cover beyond the 2013 season, a source added.
Murphy's salary last season, set by the club, stood at $512,196. Davis earned $506,690. And Parnell earned $504,000.
MLBTradeRumors.com forecasts Murphy should get a raise to $3 million, with Davis jumping to $2.8 million and Parnell at $1.5 million.
Barring a settlement, the player and team will exchange their final contract demands Friday. An arbitrator would choose either the player's submitted figure or the team's submitted figure after a hearing next month in Florida -- not some point in the middle.
Davis is a "Super Two" and will have four years of arbitration eligibility before being eligible for free agency after the 2016 season. Murphy and Parnell are due to become free agents after the 2015 season.