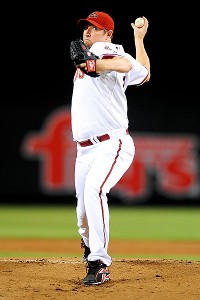 Mark J. Rebilas/USA TODAY Sports
The Mets are monitoring Brandon Webb.
The New York Mets, along with three other NL East clubs, are "keeping tabs" on former Cy Young winner Brandon Webb, ESPN's Jerry Crasnick reports.
The 33-year-old Webb has not appeared in the majors since 2009, with the Arizona Diamondbacks. He fits the profile of a Mets rotation signee -- someone with upside who can be signed to a value contract because he is trying to reestablish himself.
The Miami Marlins, Philadelphia Phillies and Washington Nationals also are interested.
Webb last pitched professionally in 2011, when he made four starts for Double-A Frisco, a Texas Rangers affiliate. Webb had a 9.75 ERA in 12 innings during that stint.
He is currently working out in Arizona.