After throwing the first no-hitter in New York Mets history last June 1, Johan Santana produced an 8.27 ERA over his next 10 starts before being shut down in August with lower-back inflammation. He allowed at least six earned runs in each of his final five starts -- a streak one shy of matching the live-ball-era record, set by Willie Blair with the Detroit Tigers in 1999.
So what is in store for Santana in 2013?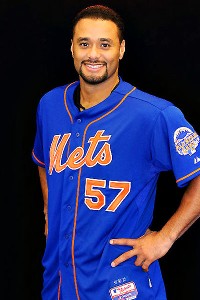 Courtesy of New York Mets
Johan Santana
The Mets expect something more closely resembling the first-half performance they received from Santana last season (2.76 ERA through June). If that materializes, it might enable the Mets to trade him in July, assuming the club has faded from the postseason race.
Why the optimism?
Here's the logic: After undergoing surgery to repair a torn anterior capsule in his left shoulder on Sept. 14, 2010, Santana worked nonstop through last winter rehabbing, with little downtime. So Mets officials assert Santana simply wore down from never having an offseason lull. They maintain the southpaw's shoulder itself is OK.
Santana's fastball velocity last season was a career-low 88.4 mph -- off its peak average of 93.1 mph in 2006 with the Minnesota Twins. But the southpaw adjusted by also taking oomph off his changeup. He threw it at an average of 77.2 mph last season, to maintain the differential with his fastball. Santana's changeup averaged 79.4 mph in 2010 and 81.8 mph in '06.
Santana had a more normal offseason this winter. Actually, he got more than a month head start because he did not pitch after Aug. 17.
Regardless of Santana aging, he's a hard-nosed, savvy competitor who should be able to will himself to a certain level of performance -- similar to how Pedro Martinez did so later in his career.
If Santana has enough success, the Mets likely would look to trade him to a contender before the trading deadline.
Of course, Santana does have full no-trade protection. And he will earn $31 million this season -- including a $5.5 million buyout of his 2014 salary.
The Mets would need to pick up nearly all of the remaining amount, but perhaps that would allow them to return a top-notch prospect, just as Sandy Alderson accomplished in obtaining Zack Wheeler for Carlos Beltran at the 2011 trading deadline.
Heck, maybe a Santana trade ends up being the vehicle by which the Mets create a rotation spot for Wheeler, if the right-hander is not promoted before then.
Santana's contract does vest at $25 million for 2014 if he logs 215 innings, but that total appears a prohibitive long shot for him to reach. He last exceeded it in 2008, in his first season with the Mets.
Santana, 33, certainly has motivation for a solid 2013 performance beyond his competitiveness and to set up his next contract somewhere.
He wants to reassert himself as a potential Hall of Famer. And he wants to retake Freddy Garcia for the career lead in wins by a Venezuelan pitcher. Garcia upped his total to 152 victories with his summer performance with the New York Yankees last season. Santana's career win total: 139.