Daniel Murphy said he is unfazed by the Mets not having signed a major league free agent this winter.
First, the second baseman offered a reminder that David Wright did sign an extension. Then Murphy, who was at the Church of the Nazarene in Far Rockaway on Wednesday afternoon to help distribute meals, said: "We've still got time. I know Scotty H. [Hairston] is still out there. I've talked to Chris Young. I've sent him text messages. I think there's still definitely some help out there, not only in the bullpen -- a little bit in the rotation, but also outfield. I feel like as an organization we don't want to quite get sucked into maybe some of the prices that are going on right now for outfield.
"But from a personal standpoint, I still like the group of guys we've got. I like some of the pieces we got back. It's tough to see R.A. [Dickey] go, but I like the pieces we got back for him."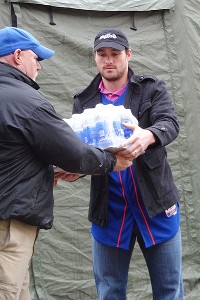 Adam Rubin/Getty Images
Daniel Murphy pitched in at the Church of the Nazarene in Far Rockaway on Wednesday afternoon.
Asked specifically about parting with Dickey, Murphy said he liked the package the Mets got in return -- catcher John Buck as well as prospects Travis d'Arnaud and Noah Syndergaard.
"I thought Sandy [Alderson] said it pretty well. He felt like he had more value in a trade than he did re-signing," Murphy said. "You're not going to replace a Cy Young Award winner. But I do think with the catching help we got -- not only immediately with John Buck, but maybe even not far away in d'Arnaud, and then Syndergaard, he's on the way -- I thought it was a good deal. It's tough to see R.A. go. He meant so much to this ballclub and this franchise. But I thought we got some pretty good value for him."
Murphy cited the infield as a strength of the 2013 Mets.
"David Wright was probably the best third baseman in the big leagues and Ike Davis played four months of the season and still hit 32 bombs and almost drove in 100," Murphy said. "I really like the core we have in the infield. I think our catching, I'm excited to see what we have there. A year older with [Jon] Niese. I've seen [Matt] Harvey. I saw him at Niese's wedding. He looks good. He looks strong and in shape.
"Then again, some of the question marks that everybody has is the outfield. But I've heard nothing but good things about Collin Cowgill. I got actually a text message right after he [got traded] from Andy Green, who used to be in our organization. He said that we're going to love this guy -- that he comes to play hard every day. He said he'll really fit in well in the clubhouse. While it may not be big-league free-agent splashes that we've made so far, I think we've added some pieces that are definitely going to help us."
Murphy added about the rotation: "We forget that Dillon Gee missed three months last year. He missed everything after the All-Star break. And he's healthy now. You start slotting him in that No. 4 or 5 slot, I think the rotation starts looking pretty good."
Murphy said he plans to arrive in Port St. Lucie about Feb. 10 – nearly a week before position players report. He currently is working out three hours north at his alma mater, Jacksonville University, with his brother Jonathan, 19th-round draft pick last year by the Minnesota Twins.
"I've still got some work to do, but I think this will be the first time I can approach spring training understanding that I'm trying to stare at 162 [games] instead of just making sure I'm going to make a ballclub or not get killed at second base," Murphy said. "That's nice. So spring training, it won't necessarily be laid back. But I think it will be hopefully a little bit more mature approach, trying to make sure I'm ready for September."