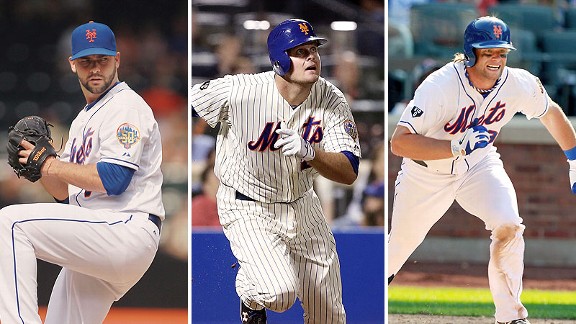 Getty Images
Dillon Gee, Lucas Duda and Kirk Nieuwenhuis each had a medical issue in 2012.
No shortage of 2013 Mets finished last season with medical issues. (Well, in one case, the injury occurred after season.)
What's the status of those players as spring training approaches? Here's a look:
Travis d'Arnaud: He likely starts in Triple-A regardless, but the centerpiece of the R.A. Dickey trade had his 2012 season end with Las Vegas last June 25 with a partially torn posterior cruciate ligament in his left knee, which he suffered sliding into second base. D'Arnaud should be unaffected this season by the injury, which did not require surgery.
Lucas Duda: Projected to be the regular left fielder, Duda told team officials he injured his right wrist carrying a sofa up stairs while moving into an apartment in California. The injury ended up being a fracture that required Nov. 5 surgery in New York. Duda recently told ESPNNewYork.com the wrist "feels great." He has resumed throwing.
Frank Francisco: Francisco, who will earn $6.5 million this season, finished 2012 shut down with elbow discomfort. He ultimately underwent surgery Dec. 18 to remove a spur from the elbow. Why the wait? Sandy Alderson indicated the spur was obstructed during a September exam. The spur was spotted during a subsequent exam last month, after Francisco resumed throwing in preparation for 2013 and still had discomfort. He supposedly will be fine for spring training, although he had no shortage of maladies last year.
Dillon Gee: Gee arguably had the scariest issue -- a blood clot in his pitching shoulder that left little feeling in his arm. He underwent surgery during the All-Star break in St. Louis and did not reappear in 2012. Still, Gee was throwing off a bullpen mound at Citi Field by the time the regular season ended. And he is led to believe the clotting issue is now solved with the surgery to repair the damage artery.
Jonathon Niese: Niese has experienced rapid heartbeats on the mound during games each of the past two seasons. He indicated multiple times that doctors at Cleveland Clinic planned to perform a heart procedure known as "ablation" to prevent future recurrences. However, Alderson since has indicated a reexamination determined Niese did not require the procedure. The issue has not been an impediment to Niese pitching.
Kirk Nieuwenhuis: Nieuwenhuis, who could serve in a center-field platoon with recently acquired Collin Cowgill, was sent to the minors 91 games into his rookie season, having compiled a .252 average with seven homers, 28 homers and 98 strikeouts in 282 at-bats with the Mets. He did not return to the big leagues last year. While playing with Buffalo on Aug. 3, Nieuwenhuis suffered a torn plantar fascia in his right foot running to first base. Mets officials originally hoped Nieuwenhuis would be recuperated for a September call-up, but the recovery was slow. He did not require surgery and team officials say he will be unaffected in 2013.
Johan Santana: Santana officially ended last season on the disabled list with a lower-back injury, although his workload -- especially the no-hitter -- raised questions about how well his surgically repaired shoulder was holding up. After a winter to exhale, the Mets hope Santana is back to the form he displayed during the first half of last season.
ESPNNewYork.com is taking a look each weekday at one of 20 questions surrounding the 2013 Mets