Sandy Alderson, appearing on WFAN on Thursday, offered sobering thoughts about the state of the 2013 Mets.
"I'm not happy where we are in preparation for 2013," he said about the roster he has assembled so far this offseason. "… I can assure you that where we are now is not where we want to be opening spring training. I mean, it's conceivable we could be in the same position, but it's not where we want to be."
On his outfield, Alderson expectedly portrayed Lucas Duda as his left fielder and Kirk Nieuwenhuis and Collin Cowgill as the center-field combo. As for the other corner spot, the GM said: "Right field, at this point, we've got … um, um, a couple people there, but nobody that would be a headliner for us at this point. …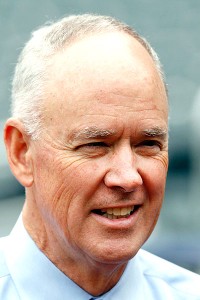 William Perlman/US Presswire
Sandy Alderson is the only GM not to award a major league contract to a free agent this offseason."The outfield is not a strength at this point. There's no question about that. There's a need, I think, for an upgrade at virtually every one of those positions. Some of it could come internally. We may see Lucas Duda substantially improve defensively and offensively."
Alderson was not guaranteeing another addition -- Scott Hairston or any other outfielder -- although it still is an aim.
"It's a realistic expectation," Alderson said, "but it might not happen."
The GM offered similar tepidness about the state of his bullpen, which is in flux beyond Frank Francisco as the closer, Bobby Parnell as a setup man and Josh Edgin as a lefty reliever.
"How do I feel about the bullpen? Well, let's say 'uneasy,'" Alderson said.
Alderson did add that he felt OK with the depth among southpaws, citing unproven Robert Carson, Darin Gorski and minor league free agent Scott Rice as well as Tim Byrdak. Byrdak is rehabbing following shoulder surgery and may return during the second half.
Alderson seemed to suggest Jenrry Mejia and Jeurys Familia might be pen options, at least in part because other pen candidates do not exist.
"There's some positives," Alderson said. "We've got a lot more young guys who are candidates for the pen this year than we've had certainly in the last couple of years -- which means we're not going to get locked into some low-ceiling, stopgap possibilities. Or fewer of those anyway."
As for Francisco, the GM added: "Closing the game is still critical, and we think Frankie's going to be healthy when spring training starts. But you can't be sure."
Alderson all but acknowledged ESPNNewYork.com's Sunday report that Brian Wilson, who auditioned for Alderson on Saturday at UCLA, has a ways to go before being ready for a major league season following a second Tommy John surgery. Alderson said Wilson threw only 20 pitches -- at nowhere close to normal velocity.
"There was no real issue about velocity. It wasn't there," Alderson said. "So he's got a ways to go."
As for Hairston and the outfield, the Mets seemingly have an advantage in that they can offer playing time. But Alderson seemed to suggest he was not positive about that yet, since something else might materialize to fill an outfield void.
"There's been speculation about Scott," Alderson said. "Money is always an issue. I wouldn't deny that."
Among other topics:
• Alderson all but guaranteed Zack Wheeler would start the season in the minors. The only way he could see Wheeler competing for an Opening Day rotation spot is if the Mets fail to sign another starting pitcher -- an unlikelihood. But in that event, Wheeler would compete with Jeremy Hefner, Mejia and Familia.
• The GM offered a similar prediction about newly acquired catcher Travis d'Arnaud starting the season at Triple-A Las Vegas.
"We had a somewhat open situation with Matt Harvey last year, too, and he had a fairly good spring training and yet he opened the season at the minor league level," Alderson said. "I just don't want to rule anything out. At the same time, I don't want to create false expectations on the part of our fans or any sense of pressure on Travis himself. He hasn't played since last June. He was out all of the second half of last season with the knee injury. He would've been in the big leagues last year had he not been injured.
"Had he not been injured and played last year, I doubt he would have been available to us in a trade," the GM added. "So you take the good with the bad."
Alderson offered an interesting tidbit on d'Arnaud. The GM said he wanted two prospects from an unspecified team (probably Texas) for R.A. Dickey. That team declined the request. Once d'Arnaud was acquired from the Jays, that team offered the same two players for the catching prospect straight up -- meaning the Mets could have had Noah Syndergaard and Wuilmer Becerra from Toronto plus the two other prospects for Dickey in all, if the Mets were willing to part with the newly acquired d'Arnaud.
"Now at that point everybody had fallen in love with Travis, so we weren't going to do that," Alderson said.
• On Johan Santana, who will not participate in the World Baseball Classic, Alderson said: "The technical situation is that because he was injured for the last half of the season and various other things, he's not currently eligible to pitch. But it's encouraging, I think, that he feels he can and he wants to and has that motivation [for the WBC]. There's no other reason to think that he won't be 100 percent and ready to go [for the season]. I take it as a big positive.
"The other thing is that when he shut it down last year it wasn't because of a significant injury. It was as much fatigue from the reconstructed shoulder as much as anything else. It wasn't a new injury that had to be addressed and rehabilitated.