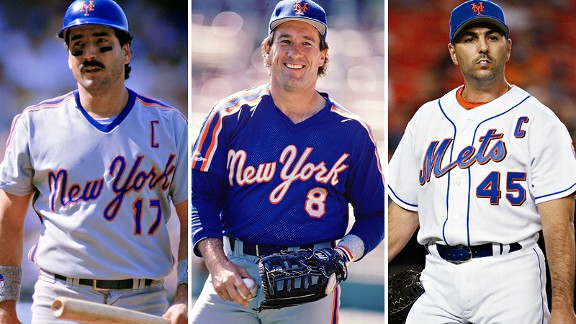 Getty Images
David Wright appears poised to join Keith Hernandez, Gary Carter and John Franco as the only captains in Mets history.
David Wright signed an eight-year contract in December. He also became engaged.
What honor is next for the 30-year-old third baseman?
Very likely becoming the fourth team captain in New York Mets history.
Jeff Wilpon said last month that he would let Wright's teammates nominate the third baseman for captain during spring training if they felt compelled rather than dictate the honor. Wright's coronation nonetheless appears a formality.
"I think David already is the captain," Wilpon said during the winter meetings. "It doesn't need somebody to say you're the captain.
"What David has shown is leadership without having to have a 'C' on his chest, or somebody having to name him captain. I think what Terry [Collins] and Sandy [Alderson] and I have talked about is if the players come in spring and say, 'Hey, listen, we really want David to be the captain, and be named the captain,' then I'm sure Terry will bring that back and we'll do something like that."
With the retirement of career-long Brave Chipper Jones and the trade of Michael Young to the Phillies, Wright now will rank fourth among active players in games played while only appearing for one team, at 1,262. He trails only Derek Jeter (2,585 games with Yankees), Todd Helton (2,123 with Rockies) and Jimmy Rollins (1,792 with Phillies).
"Two years ago he should have been captain," said John Franco, the last Met to serve in that role. "David is the team leader. He's been there for a long time, and he's going to continue to be there for a long time. He's a good player. He's the face of the franchise. Why not have the face of the franchise be the leader of the team? He deserves it."
Wright would join Keith Hernandez (1987-89), Gary Carter (1988-89) and Franco (2001-04) as the only players to have a "C" on their jerseys in Mets history.
One Mets historian recalled Carter actually became co-captains with Hernandez because Carter originally felt slighted by Hernandez getting the honor.
As for Franco, his ascendance came after Turk Wendell presented the idea, the southpaw recalled. Franco felt doubly honored because it's not an honor customarily bestowed upon a reliever.
"Turk Wendell was the one that started it. He said, 'You should be captain of this team. Everybody respects you,'" Franco recalled Monday. "I felt honored. First, you have to clear it with the manager and the general manager.
"For all of your teammates to think of you in that position as the team leader, I felt very honored being named team captain."