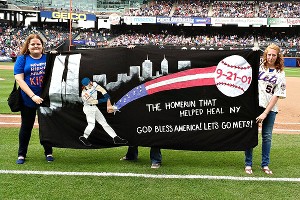 Courtesy of New York Mets
Cousins Olivia Nuzzo and Stephanie Giangrande show off the winning entry in the revival of Banner Day last May.
After ESPN picked up the May 26 game at Citi Field against the Atlanta Braves and moved the Sunday start time to 8:05 p.m., the Mets have decided to allow fans to vote whether to change "Banner Day," which had been scheduled for that date.
Fans can now vote for another option -- May 11 or June 8, or to keep it the same date.
The Mets revived Banner Day last season. It previously had been held from 1963 through 1996.