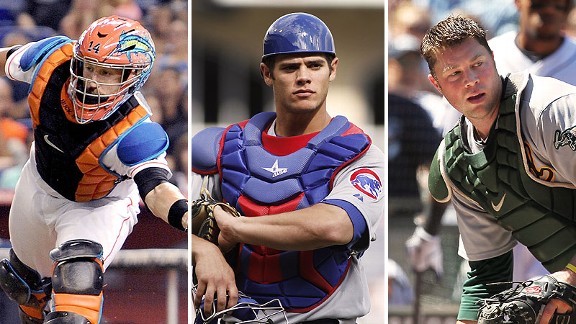 Getty Images
John Buck, Anthony Recker and Landon Powell (left to right) are part of an entirely new catching corps for the Mets.All four of the catchers who squatted behind the plate for the Mets last season have departed -- Josh Thole and Mike Nickeas in the R.A. Dickey trade with Toronto, and Kelly Shoppach and Rob Johnson via free agency.
So Mets coaches will have their work cut out for them during spring training, trying to get an entirely new catching corps introduced to the pitching staff.
Four newcomers are expected to occupy the highest catching slots in the organization. The most likely scenario has ex-Marlin John Buck starting the season as the Mets' primary catcher, with waiver claim Anthony Recker as his backup. Highly regarded prospect Travis d'Arnaud would get the primary April duty at Triple-A Las Vegas, backed up by former Oakland catcher Landon Powell.
"It will be a fun spring training," said bench coach Bob Geren, who doubles as the team's catching instructor. "There will be a little bit of a learning curve. They'll have to learn our pitchers.
"Dan Warthen does a really nice job of that with game preparation and letting everybody know what guys throw. We had good meetings last year in spring training. We talked in pitchers-and-catchers meetings what each guy on the staff has -- ranking the order of control, order of dominance. Last year it was to get guys to call better games. They were kind of inexperienced. It's going to be the same method this year. Experienced or not, they have to learn a whole new staff.
"We'll have a little longer this year because we start earlier [because of the World Baseball Classic]. It will all get done. And you'll get good catching this year. That's for sure. And in the future."
d'Arnaud profile
Year-by-year statistics for Jays catching prospect Travis d'Arnaud.
Why does d'Arnaud likely start at Las Vegas? From a pure baseball standpoint, he probably needs more seasoning. His inaugural season in Triple-A last year ended June 25 with a partially torn posterior cruciate ligament in his left knee.
It makes even more sense from a long-term standpoint.
By spending the first 20 days in the minors, d'Arnaud's free-agency eligibility would be delayed from after the 2018 season until after the 2019 season since he would not be credited with a full year of major league service this year.
Keeping d'Arnaud in the minors could keep his future salary down, too.
If d'Arnaud remained in the minors until, say, June, he would avoid becoming a "Super Two" after the 2015 season and save the Mets substantial money.
Ike Davis, because he was called up in April of his rookie year, this offseason was among the top 22 percent of players with two-plus years of MLB service time. So Davis is arbitration eligible a year earlier -- and for four years instead of the standard three. He just settled for $3.125 million. Had Mike Jacobs and Fernando Tatis done a better job at the start of the 2010 season with the Mets at first base and Davis' promotion been delayed a couple of months, Davis now would be making a lot closer to $500,000 because he would not have qualified for arbitration.
As for d'Arnaud, Geren says he received a scouting report from Don Wakamatsu, Geren's former bench coach in Oakland, who has served as the catching instructor for the Blue Jays.
"I talked to 'Wak' a lot about Travis, and I spoke to Travis," Geren said. "He's going to be a good one. He's going to be quality on both sides of the ball -- offense and defense. He's smart, a hard worker, tough. He wants to learn, wants to work. And he has the ability. When you have the ability and the desire, that's a pretty good combination. I've just seen him on video, so I'm looking forward to it."
Geren offers these breakdowns on the projected Opening Day major leaguers:
"John Buck is an All-Star [in 2010]. He's got a great arm. He's got power. He's got obviously some ability to call a game, some leadership, some experience.
"Anthony Recker is another guy we had in Oakland, who I've known for a long time. They asked me about him, and I spoke highly of him, too. He's a real strong offensive player with a lot of power. His catching has improved a lot over the last couple of years. I'm actually anxious to see him play, because I haven't seen him catch in a couple of years, and I've heard that he's made pretty good improvements there."