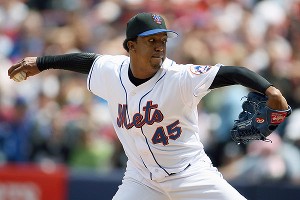 John Capella/Getty Images
Pedro Martinez is now a Red Sox executive.
Ex-Met Pedro Martinez is joining the Boston Red Sox as a special assistant to GM Ben Cherington.
"I am thrilled to be returning to this organization and to the city I love," Martinez said in a statement. "Ben Cherington's meetings this week have been outstanding. It is an honor to be back with the Red Sox and help in any way I can. I am grateful to our leaders; I believe in them, and I thank them for allowing me to return to the field and help us win again. My heart will always live in Boston."
Read the full news story here.