From ESPN Stats & Information ...
The Atlanta Braves and Arizona Diamondbacks announced a seven-player trade Thursday. Atlanta gets outfielder Justin Upton and third baseman Chris Johnson. Arizona gets infielder Martin Prado, pitcher Randall Delgado, minor-league infielders Nick Ahmed and Brandon Drury and minor-league pitcher Zeke Spruill.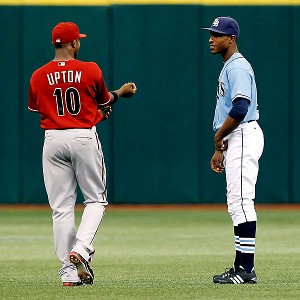 J. Meric/Getty Images
Brothers B.J. and Justin Upton are reunited with the Braves.
NOTES & GRAPHICS
From Elias: B.J. and Justin Upton could become only the fourth pair of brothers to play at least 100 games each in the outfield for the same team in the same season. The only brothers to do so were Paul and Lloyd Waner for the Pirates (10 times from 1927 to 1938), Jesus and Matty Alou for the Giants (1965), and Tony and Billy Conigliaro for the Red Sox (1970).
Justin Upton Highest BA by Ballpark
Chase Field .307
Turner Field .293
Petco Park .291
Citi Field .283
<< Minimum 10 games
* The Upton brothers provide a power upgrade over the men they replace in the Atlanta outfield, Martin Prado and Michael Bourn, but besides home runs, the jump isn't substantial.
Justin and B.J. Upton
vs Michael Bourn and Martin Prado Last Season
Uptons, Bourn/Prado
BA .263, .288
HR 45, 19
XBH 106, 103
Slug pct .442, .414
* Justin Upton had a down season in 2012 compared to his 2011 campaign. While his averages were often similar, his power was down.
Justin Upton Last 2 Seasons
2011, 2012
BA .289, .280
OBP .369, .355
HR 31, 17
RBI 88, 67
Highest OPS Among NL Outfielders Since 2008
Ryan Braun .933
Matt Holliday .924
Carlos Beltran .870
Andrew McCutchen .858
Matt Kemp .855
Andre Ethier .844
Justin Upton .842
<< Minimum 500 games
NEXT LEVEL
* Justin Upton really struggled against offspeed pitches in 2012. He batted .300 against the fastball, but that average was just .245 against offspeed stuff.
Justin Upton vs Offspeed Pitches in 2012
BA .245
Slug pct .368
OPS .675
K pct 23.2 >>
<< 16.8% vs fastball
* Martin Prado ranked 10th in the NL in WAR last season (5.4), providing more than twice Upton's value (2.1). Prado has accumulated 12.1 wins above replacement since 2010. In that span, Upton has 9.2 wins above replacement.