With glaring holes in the outfield and bullpen and Mets pitchers and catchers officially reporting to Port St. Lucie, Fla., in two weeks, it's worth asking: Has Sandy Alderson been an effective GM?
Well, even Alderson recently acknowledged that this is not where he envisioned the Mets as his third offseason at the helm nears completion.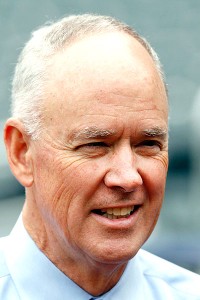 William Perlman/US Presswire
Sandy AldersonThe Mets may be headed for their fifth straight losing season in 2013, which would be their third straight under Alderson. And the current GM no longer has what he inherited from Omar Minaya to blame when Alderson quips, "What outfield?"
Of course, Alderson has done well in his two biggest trades.
A scout said that 30 of 30 GMs would approve of the haul in the R.A. Dickey deal -- catching prospect Travis d'Arnaud, right-hander Noah Syndergaard and outfielder Wuilmer Becerra. Similarly, Alderson held out for a difference maker two years ago at the trading deadline. His patience was rewarded by landing Zack Wheeler from the San Francisco Giants for Carlos Beltran.
But ...
Perhaps a strict commitment to rebuilding from the outset of his regime that included trading Jose Reyes -- rather than letting him walk as a free agent -- would have put the Mets in a better position now to be on the brink of a return to contention. Imagine what might have been ready to come through the pipeline alongside Wheeler and d'Arnaud if that had happened.
Meanwhile, Alderson's touch when auctioning off veterans has not matched the results in other trades. Case in point: last winter's deal of Angel Pagan for since-departed Andres Torres and Ramon Ramirez.
Alderson failed to add a piece when the Mets climbed to seven games over .500 in early July last season. Alternatively, as the Mets faded, he failed to sell off Scott Hairston to continue to build for the future.
Make no mistake: Alderson has worked under extreme constraints. The largest contract he has awarded to a free agent in three offseasons as a GM is Frank Francisco's two-year, $12 million deal.
Yes, Alderson may view some of the wild spending around baseball on free agents as insane. But there is no way he would, of his own volition, have spent this conservatively in the market had he been permitted a payroll more reflective of a New York team.
It will be fascinating to see what happens next winter, when Johan Santana's contract has expired.
Alderson has unearthed some cost-effective free-agent signings during his tenure, such as Chris Capuano, Chris Young and Hairston. But we've already mentioned the Francisco deal, which hasn't panned out. And you may also recall three of the newcomers on his 2011 Opening Day roster: Chin-lung Hu, Brad Emaus and Blaine Boyer.
Yikes.
The long-range plan of building through the farm system remains intact. And Paul DePodesta maintains the Mets' minors are as deep in pitching as has been the case in any organization with which DePodesta has been affiliated.
Fans do sense a better future and many seem somewhat forgiving right now.
But that's easy with a 0-0 record. In the midst of the upcoming season, if the Mets stumble early, Alderson is unlikely to escape the ire of fans, even if better days may be ahead.