The Mets have signed right-handed reliever Scott Atchison to a minor league deal with a spring-training invite.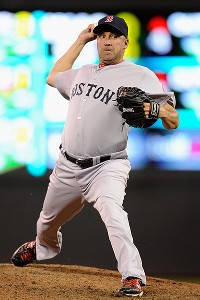 Hannah Foslien/Getty Images
The Mets have signed Scott Atchison to a minor league deal.
Atchison, 36, went 2-1 with a 1.58 ERA in 42 relief appearances for the Boston Red Sox last season. However, he missed two months in 2012 with a torn elbow ligament and passed on undergoing Tommy John surgery. He made five late-season appearances after the two-month absence. He was non-tendered by the Red Sox in December.
Atchison's fastball velocity in late September did match his performances pre-DL stint.
"Some teams were pretty cautious with the elbow," Atchison said this past weekend, according to MLB.com. "I think some of that was more to do with my age than anything, age and the elbow. It's kind of like, 'OK, well, you're 36, going to be 37, and you do have this tear.' Everybody knows about it, obviously.
"Other teams were kind of like, 'We're not that worried about it. He was throwing at the end of the year, everything looked fine and that's not really that big a deal, honestly.' ... Everything feels normal, so I haven't had any issues. Obviously it is what is with the tear and stuff, but nothing that's restricting me. At the end of year, I felt great. I feel normal, and with another couple months of rest, it seemed to hopefully calm it down even more."
He also has appeared for the San Francisco Giants and Seattle Mariners.