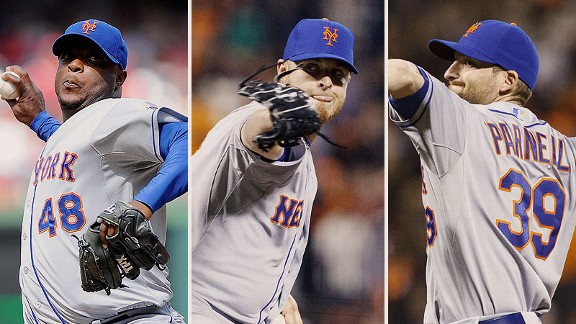 Getty Images
Frank Francisco, Josh Edgin and Bobby Parnell are holdovers in the 2013 bullpen.
Sandy Alderson told season-ticket holders Wednesday night that the bullpen will be as "deep" as any he has employed with the Mets.
Barring the addition of Brian Wilson, whom Alderson has suggested he likely would watch audition a second time, what will it look like?
Alderson recently had added right-hander Scott Atchison and left-hander Pedro Feliciano, both of whom have the pedigree to be effective. But both come with question marks, too. The agents for LaTroy Hawkins then announced a minor league deal in the wee hours Thursday morning.
Despite putting up a career-best 1.58 ERA last season with the Boston Red Sox, Atchison missed two months with a ligament tear before returning in mid-September without undergoing Tommy John surgery. Meanwhile, Feliciano has not pitched in the majors since his last tour of duty with the Mets, in 2010. And Hawkins is 40 years old.
So each has some gamble associated with him -- albeit at a far cheaper expense than last year's bullpen pieces such as Jon Rauch ($3.5 million) and Ramon Ramirez ($2.65 million).
Frank Francisco still has the distinction of receiving the largest contract in Alderson's three offseasons as GM -- two years and $12 million. So count Francisco as a lock for somewhere in the back end of the bullpen in 2013, when he will earn $6.5 million.
Right-hander Bobby Parnell should be a primary set-up man. And Josh Edgin's generally solid showings after a mid-July promotion likely lock him in as a southpaw to count on.
If the Mets carry two left-handers in the pen (and Terry Collins could want as many as three, considering the heavy presence of lefty hitters in the division), Robert Carson, Scott Rice, Aaron Laffey and Darin Gorski presumably would be compete with Feliciano to join Edgin.
Tim Byrdak has re-signed on a minor league deal, but he will not be ready until the second half after undergoing Sept. 6 surgery to repair a torn anterior capsule in his left shoulder -- the same procedure Johan Santana previously underwent.
If Francisco, Parnell, Edgin, Atchison, Feliciano and Hawkins end up being on the Opening Day roster, and there is no other notable signing such as Wilson, that leaves one slot remaining.
One typically goes to a long man, which is where Jeremy Hefner or Laffey might fit. Collin McHugh would be far more likely to end up in Triple-A Las Vegas' rotation than that long-relief role, since organizations typically like to have their prospects -- even second-tier prospects -- regularly pitching and developing.
If, say, Atchison or Hawkins falters or becomes injured during spring training, or the Mets go without a bona fide long man, a live young arm such as Jenrry Mejia or Jeurys Familia could claim a spot with a solid Grapefruit League showing -- with the other heading to Las Vegas' rotation.
Another option: Greg Burke, whom the Mets signed to a minor league deal very early in the offseason. Team officials then put Burke on the 40-man roster to protect him from being eligible for the Rule 5 draft. Burke went 3-3 with a 4.14 ERA in 48 relief appearances for the San Diego Padres in 2009. He has pitched in Triple-A each of the past three seasons.
Also in camp: ex-White Sox/Rockies reliever Carlos Torres.