Sandy Alderson has made little secret of his concern about Frank Francisco's ability to capably close in 2013. And the GM pursued free-agent Jose Valverde with an eye toward unseating Francisco as closer for the upcoming season.
So is Bobby Parnell potentially the next closer for the Mets?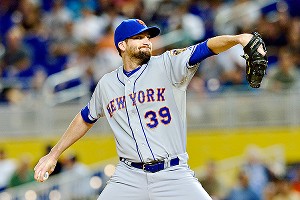 Steve Mitchell/USA TODAY Sports
Bobby Parnell was dominant this past September.
Very possibly.
Alderson even acknowledged during last week's Hot Stove Show on SNY that if a closer was not added before Opening Day, Parnell would at least compete for the closer's role with Francisco during spring training.
The 28-year-old Parnell has been considered the closer of the future for a long time.
In fact, he has vied for the role a couple of times in the past and flopped. Those auditions included late in the 2011 season, after Jason Isringhausen had notched his 300th career save. In 15 appearances that September, Parnell had more blown saves (four) than saves three).
So the Mets went out and signed Francisco to a two-year, $12 million contract that offseason. Francisco will earn $6.5 million during the upcoming season as part of the modestly back-loaded deal.
Isringhausen did teach Parnell a knuckle-curveball during the 2011 season, which Parnell incorporated into his arsenal last year. Also, instead of always rearing back and firing his fastball, Parnell took a little velocity off the pitch in order to better harness his control. (His four-seam fastball velocity averaged 95.8 mph last season -- down from 97.2 mph in 2011.)
The result: This past September, Parnell produced a 0.60 ERA and .191 batting average in 15 appearances. He notched three saves with no blown opportunities. And Parnell reasserted himself as a consideration to handle the closer's role.