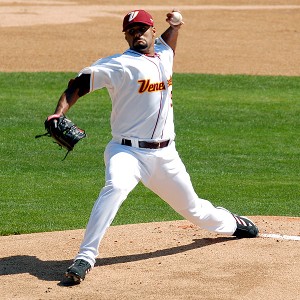 Phelan M. Ebenhack/Associated Press
Johan Santana represented Venezuela in the World Baseball Classic in 2006.
Johan Santana's participation in the World Baseball Classic for Venezuela appears an uphill battle that will not materialize, although there is no set decision, sources told ESPNNewYork.com.
Because Santana ended last season injured and on the disabled list, a World Baseball Classic committee must agree to insure the southpaw's $31 million contract in order to make him eligible for the event.
That in itself appears an uphill battle.
Sandy Alderson said the decision is not the Mets' to influence at this point, but sources acknowledged the organzation can quietly dissuade Santana's certification if it chose to do so -- and it might. That would make it a doubly difficult burden to get Santana cleared for the WBC.
"I'm not sure what his desire is at the moment," Alderson said about Santana. "Until that's expressed to us, we don't need to take a position on it. ... But in order for him to pitch, he's got to go through several steps in order to even be qualified. And a lot of it has to do with insurance -- not our insurance, but the insurance of the World Baseball Classic."