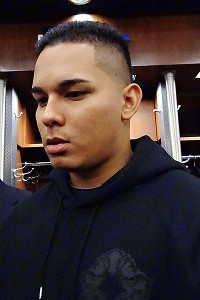 Adam Rubin
Ruben Tejada speaks in the home clubhouse at Citi Field on Monday.
Ruben Tejada, who irked manager Terry Collins by arriving on time to spring training last year, will not have a similar issue this time.
Tejada said he plans to arrive in Port St. Lucie, Fla., on Saturday -- eight days before the official report date for pitchers and catchers. Tejada has been training for the past 10 days with Jose Reyes at a Garden City, Long Island, facility.
"Last year is history now," Tejada said inside the Mets' clubhouse at Citi Field on Monday, before hitting in an indoor cage. "We're here to keep playing good and keep working hard."
Tejada will be in camp all of spring training. Panama, with him participating, lost in the finals of a World Baseball Classic qualifier in his native Panama in November and is not taking part in the main event in March.
"Brazil played good baseball," Tejada said. "It's a big surprise. It's a big surprise for everybody."
Tejada may be the leadoff man for the Mets in 2013. He said one goal for the season is to steal more bases. He had four attempts last season -- all successful.
As for training with Reyes, Tejada said: "We're talking about everything. In practice I try to learn a lot about running the bases, stealing more bases."