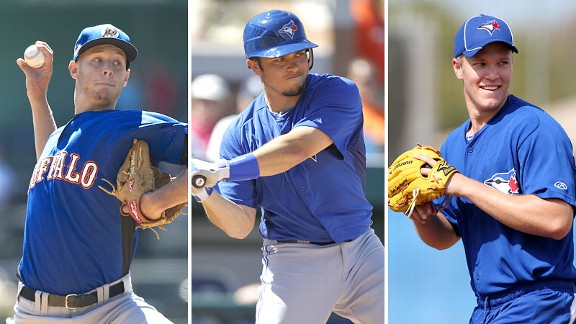 Associated Press
Zack Wheeler, Travis d'Arnaud and Noah Syndergaard appear on Keith Law's top-100 prospects list.
ESPN's Keith Law ranks Zack Wheeler the 13th-best prospect in baseball, with Travis d'Arnaud at No. 14 and Noah Syndergaard at No. 97 on the top-100 list.
D'Arnaud and Syndergaard arrived in the R.A. Dickey trade with the Toronto Blue Jays, while Wheeler arrived in the Carlos Beltran trade with the San Francisco Giants. No homegrown Met was placed in the top 100.
Writes Law:
Wheeler mopped the floor with Eastern League hitters before a late-season promotion to Triple-A. He'll pitch at 91-96 and touched 98 in a brief stint at the Futures Game. He has an out-pitch curveball up to 80 mph and a straight change that is probably too hard to be truly effective, with lefties posting a .386 OBP against him in Double-A. Wheeler takes a long stride toward the plate with big hip rotation to generate arm speed, and he pitches very aggressively with the fastball.
If he can improve his feel for the changeup, either taking a little off it or adjusting his grip to give it some life, he has a chance for three 60-grade pitches or better on the scouting report -- along with a durable build and the control to pitch in the majors right away, which would make him no worse than a solid No. 2.
D'Arnaud hits for average and power, throws well, handles pitchers well -- and gets hurt at least once a year, reaching 400 plate appearaces in a season just twice in five years. Injuries to his knees, back, finger and more have kept him off the field.
He has plus raw power, thanks to good hip rotation and a big finish to his swing, giving him 25-30 homer potential if he can ever play a full season. He has solid hand-eye coordination for contact but doesn't walk much, so he might peak as a .280 hitter with a .330-.340 OBP, buoyed more by his power than anything else. His defense has improved substantially since he was first drafted by the Phillies, with throwing the strongest aspect of his game.
Syndergaard has a very clean, easy arm action with a fastball in the mid-90s, and an above-average changeup with pretty good arm speed, all with the size of a guy (6-foot-5, 200 pounds) who looks like a front-line starter. Finding a consistent, average breaking ball has been an issue for Syndergaard since he entered pro ball, with reports this year grading it as average at best, and often coming in below that or saying it came and went.
He'll pitch at 20 years old this season and has just 176 pro innings behind him, so there's time to find a consistent third pitch, but it's not a great sign that two-plus years in Toronto's system didn't produce it yet. At worst he should be a solid fourth starter, very durable with above-average control, and still has that No. 2 starter upside if the curveball comes along.
Insiders can read Law's full report here.