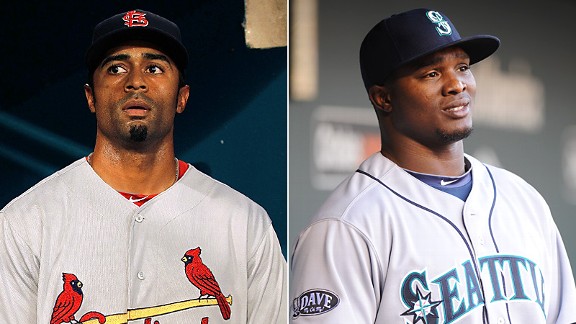 Getty Images
Freshly signed Corey Patterson and Mike Wilson will head directly to minor league camp.
The Mets have signed veteran outfielders Corey Patterson and Mike Wilson to minor league deals. They will report directly to minor league camp and vie for spots with Triple-A Las Vegas while serving as organizational depth.
Both players last appeared in the majors in 2011.
The lefty-hitting Patterson, 33, hit a combined .239 with six homers, 36 RBIs and 13 steals in 368 at-bats with the Toronto Blue Jays and St. Louis Cardinals that season. The righty-hitting Wilson, 29, hit .148 with three RBIs in 27 at-bats with the Seattle Mariners in '11.
Both played in the Triple-A Pacific Coast League last season.
In major league camp, Lucas Duda is projected as the left fielder, with Kirk Nieuwenhuis and Collin Cowgill likely to platoon in center, barring the signing of free agent Michael Bourn. Right field should be a combination of Mike Baxter and Andrew Brown or Marlon Byrd. Brian Bixler also is in major league camp, while Justin Turner and Zach Lutz will dabble in the outfield during spring training.