PORT ST. LUCIE, Fla. -- ESPN's Keith Law ranks right-hander Zack Wheeler the top Mets prospect. The rest of the top 10: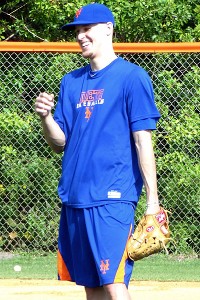 Adam Rubin
Zack Wheeler, the Mets' top prospect, works out Thursday in Port St. Lucie.
2. Travis d'Arnaud, c
3. Noah Syndergaard, rhp
4. Brandon Nimmo, of
5. Gavin Cecchini, ss
6. Wilmer Flores, 3b
7. Rafael Montero, rhp
8. Domingo Tapia, rhp
9. Jacob deGrom, rhp
10. Hansel Robles, rhp
Writes Law:
It's a top-heavy system that was boosted substantially by the R.A. Dickey trade. It brought a return that accounts for two of the Mets' top three prospects while they wait for the 2011 and 2012 drafts to start to have more of an impact on the system.
2013 impact
Both of their top prospects, d'Arnaud (acquired from Toronto) and Wheeler (acquired from San Francisco), should spend at least half the year in the majors, d'Arnaud depending on his health and Wheeler on room in the Mets' rotation. Wheeler might be their Matt Harvey, coming up midyear and getting by first on raw stuff as he makes adjustments, while d'Arnaud will have to show he can work the count enough to get to that power.
Sleeper
Tapia, last year's sleeper, had a strong year in full-season ball, although I think he's been passed by Montero, who has better command and better secondary stuff than Tapia, who throws harder with more sink but is less of a complete pitcher. DeGrom came back from Tommy John surgery in the middle of the season and was 92-96 with plus life, a good slider, feel for a change and good control. He has yet to throw a full season anywhere, though, as he didn't convert to pitching regularly until the spring of 2010.
Insiders can read the full report here.