PORT ST. LUCIE, Fla. -- Catching prospect Travis d'Arnaud, who arrived in Port St. Lucie on Monday, has recognized a few familiar faces with his new employer. D'Arnaud and John Buck were acquainted from when Buck was with the Toronto Blue Jays in 2010. And Ike Davis and d'Arnaud were part of a group that worked out a couple of offseasons ago at Fischer Sports in Phoenix.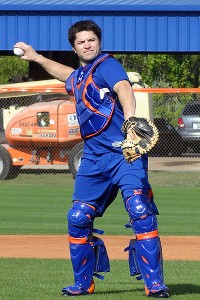 Adam Rubin
Travis d'Arnaud participated in voluntary drills Thursday in Port St. Lucie.
D'Arnaud's other curiosity this week, aside from meeting new teammates? Getting back on a baseball field to confirm his knee is fine.
D'Arnaud's 2012 season ended at Las Vegas on June 25 when he partially tore the posterior cruciate ligament in his left knee during an aggressive slide at second base. No surgery was required. His first bona fide baseball activity since the injury came this week.
"Baseball-wise I shut it down, just rehabbed and made sure my knee was 100 percent," d'Arnaud said Thursday morning. "I'm really antsy right now to get on the field. I caught a bullpen. I felt fine. I felt really good, actually. I did some blocking drills, footwork and everything, and it all felt good. I knew it was going to be fine. I worked all offseason to get it right. It's good."
Mets bench coach Bob Geren worked with the catchers again Thursday and continued to offer a favorable early review of the ballyhooed return in the trade for R.A. Dickey.
Geren spoke for an hour on Wednesday night with Don Wakamatsu, the Jays' catching instructor and Geren's former bench coach with the A's, about d'Arnaud.
"He's just real athletic," Geren said about d'Arnaud. "Surprising power. I knew he had power, but it was even more than I envisioned. I haven't seen him throw yet, but I've heard great things. He's going to be a good one. He's very athletic."
Geren doesn't think last year's knee injury will prompt the Mets to treat d'Arnaud conservatively this spring training, but he's awaiting official word.
"I'm sure we'll touch on that Sunday or Monday when we go over it in our meetings -- what the medical advice is," Geren said. "They go over each player. I asked him that personally. He said he had no restrictions. But that's what he says. Obviously you always get cleared the medical end of it first, but it doesn't look like it's setting him back."