PORT ST. LUCIE, Fla. -- Zach Lutz's transition to outfielder became more official Thursday with outfield coach Tom Goodwin now at the Mets' spring-training complex.
Goodwin had Lutz doing drills with the outfield group throughout the voluntary workout. Lutz had bought an outfield glove a few weeks ago and done some preliminary work outdoors at Alvernia (Pa.) University, where his father is the baseball coach.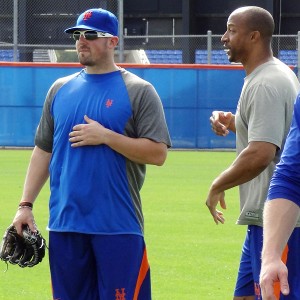 Adam Rubin
Zach Lutz and outfield coach Tom Goodwin chat during Thursday's workout.
"He wasn't sore today, so that kind of hurt my feelings," Goodwin joked.
Lutz is known for his bat, not his glove. But he exclusively has been an infielder as an amateur and professional. He is a willing pupil, though, especially if it will get him on the Opening Day roster.
The Mets seem to have a tradition of converting infielders to the outfield. Lucas Duda is a natural first baseman. Jordany Valdespin, Nick Evans and Daniel Murphy are among the other recent examples who attempted to make conversions from the infield -- not all with sparkling results.
Lutz, 26, made his major league debut last April 24. He went 1-for-11 over seven games with the Mets. He hit .299 with 10 homers and 35 RBIs and had a gaudy .410 on-base percentage in 294 plate appearances with Triple-A Buffalo last season.
Barring the addition of Michael Bourn, the Mets appear to have one outfield vacancy for a righty hitter to pair with Duda, Kirk Nieuwenhuis, Collin Cowgill and Mike Baxter. Justin Turner also will get a look in the outfield. Lutz's primary competitors for the roster spot appear to be Marlon Byrd and Andrew Brown, both of whom have minor league contracts. Lutz already is on the 40-man roster.
"A few weeks ago Terry Collins called me up and said, 'Hey, we want you to get a lot of reps in the outfield this spring. Come down the first week of February, and when Tom Goodwin gets down there, you'll get all your reps out there and just get comfortable out there,'" Lutz recalled. "I've never played, but I told him I'll do whatever it takes.
"I feel pretty good so far. I think going to the outfield you just have to be an athlete out there. You have to let your athleticism take over. I talked to Duda about it. He gave me some tips about it. [Prospect Juan] Lagares, he played shortstop [before converting to outfield]. I mean, he's a lot faster than I am. He was giving me some pointers. I'll take whatever I can."