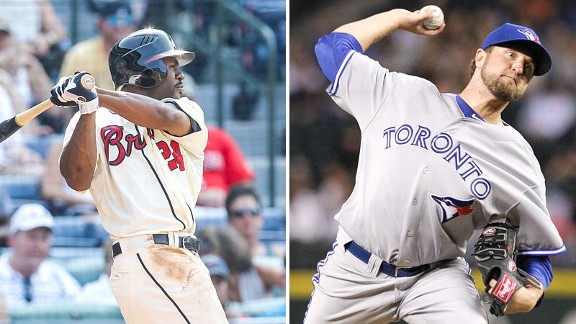 USA Today Sports
Michael Bourn remains a possibility, while Brandon Lyon is nearly officially on board.
PORT ST. LUCIE, Fla.
FIRST PITCH: Jonathon Niese became the latest Met to arrive early, when he rolled into Port St. Lucie, Fla., on Thursday afternoon after driving with his wife straight through from Ohio without an overnight stop.
While heavy snow threatens the Northeast, the forecast is for a high of 82 degrees with isolated thunderstorms in Port St. Lucie today.
Mets players again will be part of voluntary workout groups at 10 a.m. The complex will then be closed Saturday and Sunday in advance of Monday's official report date for pitchers and catchers.
Friday's news reports:
• Sandy Alderson is certainly chatty about free-agent Michael Bourn these days.
During did a Mets.com video chat based on questions tweeted from fans, Alderson said about his preference for an outfielder: "I have more of an offensive interest than a defensive interest, but that can be taken to an extreme. And, so, you have to make accommodations. You also need to take into account what your specific needs are. And right now our specific need in the outfield is somebody who can cement that outfield defense. His defense becomes a little more important in our circumstance perhaps than it might be in some others.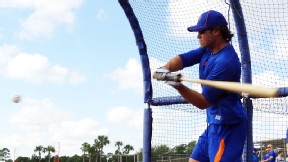 Adam Rubin
Center field prospect Matt den Dekker gets into the swing of things during Thursday's workout in Port St. Lucie.
"He's also a leadoff guy and brings some speed to a club. Those are areas we'd like to improve as well. For us, he would be a very nice fit. But, at the same time, we have to keep it in perspective. And, frankly, we don't know what some of the outfielders already in spring training are going to be able to do for us this year.
"But I certainly understand why fans are interested in our position vis-a-vis Michael, and we'd like to get it resolved one way or the other. I think we're still in the mix, but I couldn't really predict anything at this point."
Also, the GM reiterated free agents Jose Valverde and Brian Wilson are not current considerations, although Alderson said he would "keep an eye" on Wilson as he rehabs.
Alderson said prospect Wilmer Flores will play third base and second base in spring training, but it's "conceivable" given the team's needs that he also can see time in the outfield. "As long as Wilmer continues to develop as a hitter, we'll find a position for him," the GM said.
Watch the Alderson video here. Read more in Newsday.
• Reliever Brandon Lyon will become a Met on a one-year deal once a physical is complete. Foxsports.com's Ken Rosenthal reports Lyon's deal calls for a base salary between $750,000 and $900,000 with incentives that can raise the total haul to as much as $2.4 million. Read more in the Post and Daily News.
• John Buck described himself to Jorge Castillo in the Star-Ledger as a "redneck from Utah." A year ago, Buck was on a Miami Marlins team that had spent wildly the previous offseason but finished in last place and had its latest fire sale.
Castillo notes that Mets catchers had an MLB-worst .567 OPS in 2012.
Meanwhile, Buck revealed he grew up with Lyon, having sleepovers and playing on the same high school team.
Of course, Buck should cede the primary catching duty to Travis d'Arnaud at some point this season. "In the process, if we're there and I can share some knowledge or he asks questions, obviously I would help," Buck told Castillo. "But that's not on my mind, that's not my main focus, honestly, to be his mentor or whatever. I'm here to get ready for a major league season."
SNY's Kevin Burkhardt tweeted that Buck already has revealed that Johan Santana was tipping his pitches as the southpaw struggled last season.
• Frank Francisco remains the closer assuming he demonstrates he's healthy, according to Terry Collins. Read more in the Star-Ledger.
• Matt Harvey tells Kevin Kernan in the Post his goal is 200 innings.
• Ken Belson in the Times reports the new naming-rights deal for the Mets' spring training stadium will be worth $75,000 in 2013 to the team and county, and indexed for inflation through 2017. Options exist beyond that to keep the deal in place and use the name "Tradition Field" through 2023. Digital Domain, which previously had the naming rights, had paid $100,000 per season before running into financial difficulty.
• Anthony DiComo at MLB.com has a Mets spring-training preview.
• From the bloggers … Shannon from Mets Police looks at the 1983 team photo hanging in his office. Thirty years ago the Mets were transitioning from the return of The Franchise and Dave Kingman to the team of Strawberry and Hernandez.
BIRTHDAYS: No one to ever play in a game for the Mets was born Feb. 8, but John Grisham and Nick Nolte were born on this date.
TWEET OF THE DAY:
@adamrubinespn You got out of NY just in time. Jealous!

— Jimmy Gallagher (@JGallag) February 8, 2013
YOU'RE UP: How much should the Mets be willing to commit to free agent Michael Bourn in years and dollars?
Please use the comments section to weigh in