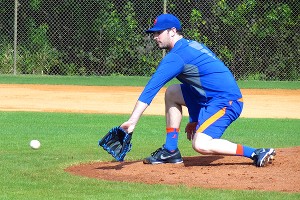 Adam Rubin
Matt Harvey fields a comebacker during pitcher fielding drills Thursday in Port St. Lucie.
PORT ST. LUCIE, Fla. -- Matt Harvey appreciates a bright future on the horizon with Zack Wheeler and Travis d'Arnaud among others on the brink of major league careers. He's not going to go overboard waxing poetic about it, though.
For Harvey, the only important thing is the present -- namely, this season, and getting off to a good start.
"That's always nice to look at, but I'm here to play this year," Harvey said. "I'm here to win this year. I don't want to look ahead to the next couple of years. I want to win now. And that's my job."