PORT ST. LUCIE, Fla. -- Mike Piazza, in his first interview since falling short of first-ballot election to the Hall of Fame, indicated feeling disappointed with the voting result. Piazza also denies using banned steroids in a soon-to-be-released autobiography, "Long Shot."
Piazza appeared on 57.8 percent of ballots cast -- shy of the 75 percent threshold for election, but close enough to make it a near-certainty he wil be enshrined within a couple of years.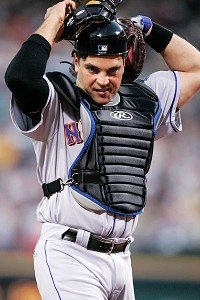 Paul Abell/US Presswire
Mike Piazza denies steroid use in his autobiography.
"I won't deny there is some disappointment, but I understand it's a process," Piazza told David Waldstein in the Times. "All things considered, I got over 50 percent, and a lot of people were very supportive. I mean, there's what, almost 600 voters? That's a lot. I'm on my homeowners board. I know how hard it is to get six people on the same page, let alone 600."
Writes Waldstein about the book's contents:
He writes of his mixed feelings about the former Mets manager Bobby Valentine, with whom he went to the World Series; his bitter war with Roger Clemens, who beaned him while he was with the Mets; the rumors that he was gay; and, most significant, the suspicions that he used performance enhancers, which he denies.
"It shouldn't be assumed that every big hitter of the generation used steroids," Piazza says in the book. "I didn't."
... But it is the issue of performance enhancers and his run-ins with Clemens that will generate the most interest in the book.
Of drugs, he writes: "Apparently, my career was a story that nobody cared to believe. Apparently, my success was the work of steroids. Had to be. Those were the rumors."
He admits to using androstenedione as part of a supplement pack until the outcry over Mark McGwire's use of it forced him to "phase it out." Baseball later banned the substance.
He also writes that he briefly experimented with amphetamines until they were banned in 2006. And he describes hearing about human growth hormone, doing some research and asking the Mets' former trainer, Fred Hina, if teams would start distributing it, unaware that it was a banned substance. According to the book, Hina said he would look into it and a day or two later told Piazza it was not a good idea.
As for his clashes with Clemens, Piazza reiterates in detail all the events surrounding their confrontations and concludes that there should have been a fight in the 2000 Subway Series after Clemens threw a broken bat in his direction just months after he had beaned him. But, Piazza writes, Clemens then confused the situation by simply asking the umpire for another ball, rather than being confrontational. "He screwed up the script," Piazza writes. "He sabotaged my payback."