PORT ST. LUCIE, Fla.
FIRST PITCH: Mike Piazza's autobiography "Long Shot" is out this week. According to David Waldstein in the Times, Piazza denies used banned steroids, but acknowledges experimenting with amphetamines pre-2006 as well as using a supplement that contained androstenedione until the Mark McGwire hullabaloo prompted him to "phase it out."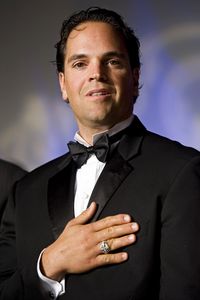 AP Photo/Cliff Owen
Mike Piazza
The Post review includes this excerpt:
Mike Piazza thinks Hispanic ballplayers need to learn English. "I certainly don't dispute that Latin players are entitled to the same dreams and opportunities that I had, but I'm sorry: when they arrive on U.S. soil, the onus isn't on the American players to learn Spanish," he writes in his memoir. "It's on the Latin players to learn English."
Tensions between Piazza and Latin ballplayers simmered more than once during his 16-year career. Piazza describes "some kind of weird Hispanic conspiracy against me, almost like a secret brotherhood, a Latin mafia-type of thing."
Read more in Newsday and the Star-Ledger.
Meanwhile, the Mets' complex is closed for a second straight day today. Pitchers and catchers officially report on Monday, as things get started for real. Ruben Tejada was among the players who arrived this weekend.
Sunday's news reports:
• Lucas Duda, who had surgery in December, tells Jorge Castillo in the Star-Ledger that the fractured wrist is 80-90 percent in terms of range of motion. Duda has been taking batting practice outdoors with teammates, uninhibited.
• Steve Serby has a Q&A with Mike Baxter in the Post. Asked if his catch that saved Johan Santana's no-hitter "changed his life," Baxter replied: "No, it didn't. A lot of people think that. What it has done is give me a great memory. Definitely one of the highlights of my short career to date. It was such an honor to be part of that day, something I'll never forget."
• R.A. Dickey in the Daily News writes about his January trip to Mumbai, India, to continue raising awareness about youth sex slavery. Writes Dickey:
I am walking down a street called Lane 14 in a city the world used to know as Bombay, and my senses are under assault. I sidestep human feces on my left, and a puddle of vomit on my right. Garbage is strewn everywhere, and so are people of all ages, many of them deformed, enough human beings to make Times Square look like Palookaville.
I keep walking. I pass raw sewage in the gutters and decaying food and rats the size of possums. I have all I can do to not gag and wretch. I come upon a boy who can't be more than 4 years old. He is eating a half-rotten banana. He is wearing no pants. Oozing sores cover his legs. I wonder what his name is. I wonder how he came to be left on his own in a city of some 20 million people, half-dressed and wholly neglected.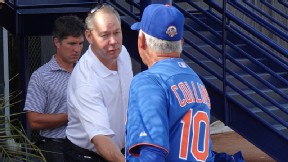 Adam Rubin
Astros owner Jim Crane toured the Mets' facility last March while looking for a new spring-training home for his ballclub.
• The Mets continue to seek a second team with which to share their spring-training complex, reports TCPalm.com. Houston Astros owner Jim Crane toured the facility last spring training, but sounds inclined to relocate the now-American League club from Kissimmee to elsewhere on the Atlantic side of the state -- not Port St. Lucie. The Nationals, currently an hour away from the Mets' complex in Viera, Fla., have a lease expiring soon and they're looking for a new home in Florida or Arizona, which would potentially further deplete the number of teams close to the Mets.
• Marc Carig in Newsday profiles John Buck.
• The Post has season preview write-ups here and here. Here are previews in Newsday, the Record, Daily News and Star-Ledger.
• Anthony McCarron in the Daily News profiles the friendship between David Wright and disabled Iraq and Afghanistan war veteran Felix Perez.
• From the bloggers … Mets Police writes that Daniel Murphy comes to camp not having to worry about finding a position or looking over his shoulder at the likes of Ike Davis or even Brad Emaus.
BIRTHDAYS: Lenny Dykstra, who has run into legal difficulties in recent years, turns 50. … Bobby J. Jones, who won a career-high 15 games with the Mets in 1997, is 43. ... Travis d'Arnaud turns 24.
TWEET OF THE DAY:
How I spent my last day off this spring. Enjoy the snow everyone. twitter.com/Jay_HorwitzPR/…

— Jay Horwitz (@Jay_HorwitzPR) February 9, 2013
YOU'RE UP: Should Mike Piazza have charged Roger Clemens in the 2000 World Series, even if he may have been ejected from the game?
Please use the comments section to weigh in