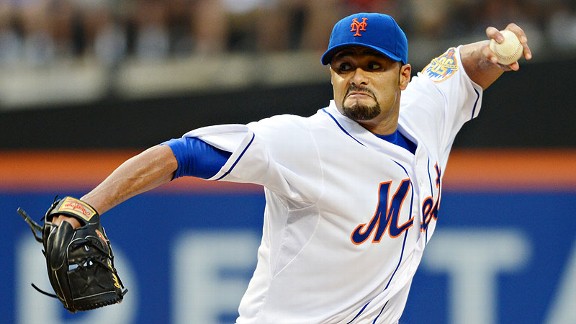 Henny Ray Abrams/Associated Press
Johan Santana, along with other Mets pitchers and catchers, are due to report today.
PORT ST. LUCIE, Fla.
FIRST PITCH: Mets pitchers and catchers officially report today, and that likely means Johan Santana gets to profess his health to the assembled media.
Santana's 2012 season ended Aug. 17, when he surrendered six runs in five innings at D.C. -- his fifth straight outing allowing six-plus runs. Santana had an 8.27 ERA and opponents had a .327 batting average in Santana's 10 starts after his June 1 no-hitter.
Officially, Santana landed on the DL with lower-back stiffness. Terry Collins asserts it was merely fatigue, since Santana spent most of the previous offseason working back from shoulder surgery rather than having a normal winter.
Santana will earn $25.5 million this season, in the final guaranteed year of his six-year contract. He also is entitled to a $5.5 million buyout of his 2014 contract assuming he does not vest for the following season by logging 215 innings. That's a pretty safe bet.
Santana does have a no-trade clause, but it's entirely conceivable he's dealt prior to the July 31 trade deadline, assuming the Mets have faded from contention. After all, if the Mets could land Zack Wheeler for Carlos Beltran at the trading deadline two years ago, imagine what they could get for Santana if he performs similarly to the first half of last season -- provided the Mets pick up most of the remaining money owed.
"He says he feels great," Collins told Mike Puma in the Post. "He is well-rested and said [the layoff] was real good for him, so I'm expecting him to come in, and he said he's ready to pitch like he's capable of pitching."
Monday's news reports: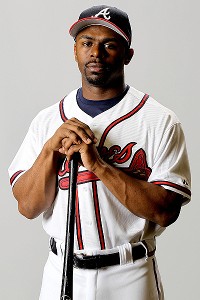 Matthew Stockman/Getty Images
Michael Bourn
• Andy Martino in the Daily News writes that the union has yet to initiate any grievance process -- or settlement talks with MLB -- to try to get the Mets' 11th overall pick in the draft protected so that it would not be forfeited for signing Michael Bourn.
Tim Marchman in the Journal wonders: "Exactly why would a broke, iffy team want anything to do with an expensive, sketchy player in the first place?" Writes Marchman:
Bourn, who turned 30 in December, is a player of many faults. Last year, he hit nine home runs, two more than he'd hit in the previous three combined. He doesn't walk a lot or hit for an especially high batting average, and he's led the league in times caught stealing two years running. …
He is, though, very good at some things. By every available measure he's an excellent defensive player and the best base runner in the game, picking up a marginal win every year on steals, avoiding double plays, going first to third and the like. And even though his average and batting eye aren't great, they're good enough that on balance he's a league-average hitter, which is fine for any center fielder, let alone one who's dominant in the other aspects of the game. … Add in that he plays every day -- he has averaged 150 games the last five years -- and you understand why his famous agent, Scott Boras, is reportedly angling for a deal that would pay him $15 million a year.
• David Waldstein in the Times looks at the Mets and Yankees each opening on April 1 at home just after 1 p.m. The Boston Red Sox and San Diego Padres visit NYC for the competing games. The last time two New York teams had season openers at home on the same day came in 1956, when three teams played in the city.
"Nobody is particularly happy about it," Katy Feeney, MLB's senior vice president for scheduling and club relations, told Waldstein. "But it's unlikely to happen again anytime soon." Mayor Michael Bloomberg apparently will attend BOTH games. Writes Waldstein about the reasoning for competing games, per Feeney:
First, this is the first year with two leagues of 15 teams each and the first year there will be an interleague game nearly every day, causing some scheduling difficulties. That trend starts with the Los Angeles Angels visiting the Cincinnati Reds on April 1 for the first interleague opening day game.
The Mets-Yankees situation was also caused by a change in the date of the All-Star Game, which is normally the second Tuesday in July. This season it is scheduled for July 16, the third Tuesday of the month, and when every other factor was taken into account, the only way to make it all work was to have the Mets and the Yankees play at home on the same day, Feeney said.
• Jared Diamond in the Journal looks at the link between John Buck and his ultimate successor behind the plate for the Mets, Travis d'Arnaud, who turned 24 Sunday. "I think that's the objective of having me here, knowing they can take as much time as they need," Buck told Diamond about d'Arnaud's development.
• Anthony DiComo at MLB.com previews Mets spring-training camp.
• Kevin Kernan in the Post speaks with second baseman Reese Havens, who was drafted by the Mets in the same first round as Ike Davis in 2008. Havens has been tormented by back issues throughout his professional career, and could be in danger of losing his 40-man roster spot. "Last year, I bent down to pick up a shirt off the ground and threw my back out, crazy stuff like that," Havens told Kernan. "Right now it's feeling good."
• Bill Price in the Daily News says Mike Piazza's denial of banned steroid use reignites the debate rather than ends it.
• From the bloggers … The Eddie Kranepool Society doesn't hold high hopes for Piazza's book, but plans to buy a copy today. … At Mets Police, Mike V's Countdown to Opening Day continues with a look back to 2001, when $29 got him a seat in Loge section 6 and he was one of the 53,640 who saw Kevin Appier get the win as Tsuyoshi Shinjo made his Shea Stadium debut.
BIRTHDAYS: Former Mets farmhand Matt Lindstrom, who has pitched six seasons in the majors, turns 33.
TWEET OF THE DAY:
Most people are watching #Grammys2013 I'm on a plane 2 #springtraining. so hard 2 leave loved ones behind, but ready 2 work #bittersweet

— Justin Turner (@redturn2) February 11, 2013
YOU'RE UP: Will the Mets (1) trade Santana at the deadline, (2) let him complete the season and depart, or (3) re-sign him?
Please use the comments section to weigh in