PORT ST. LUCIE, Fla. -- Shaun Marcum arrived at Mets camp Monday, on the day R.A. Dickey reported to Toronto Blue Jays camp.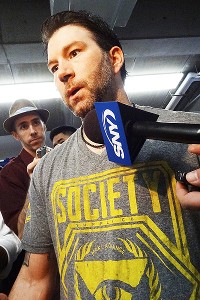 Adam Rubin
Shaun Marcum meets the New York media Monday.
But Marcum reiterated he alone will not replace the 20-game winner and reigning NL Cy Young winner.
"Those numbers that he put up last year are pretty incredible," Marcum said. "If one of us can go out there and do that, that'd be great. But if we can all shoot for that 200-inning mark, go out there and hit that, that's going to take a lot of pressure off the bullpen. And to hit 200 innings you've got to be pitching deep into the game -- not just go out there and throw four or five innings every time."
After surveying 16 baseball executives, ESPN's Jayson Stark labeled the Mets signing of Marcum the third-best one-year contract by an MLB club this offseason, behind A.J. Pierzynski's $7.5 million deal with the Texas Rangers and Mike Napoli's $5 million "bargain" with the Boston Red Sox after the physical resulted in a modified deal.
Marcum will earn a $4 million base with another $4 million in potential bonus money.
Stark wrote:
The Mets no longer have the reigning Cy Young Award winner hanging around Queens, but it costs them just $4 million for one year to take a flier on Shaun Marcum. Bet you didn't know that Marcum is one of four active pitchers working on a streak of four straight seasons with a winning record, a WHIP under 1.27, an ERA under 3.75 and at least 20 starts. The others: CC Sabathia, Justin Verlander and Matt Cain. (One slight asterisk, though: Marcum missed the entire 2009 season, following Tommy John surgery, in the middle of that streak.)
Marcum, 31, went 7-4 with a 3.70 ERA in 21 starts for the Milwaukee Brewers last season.
He previously worked with batterymate John Buck in Toronto in 2010.
"I don't try to do too much early on in spring training," Marcum said. "I don't even throw breaking balls until like my third or fourth start in spring training. It's usually just fastball-changeup, working on command. Because, for me, being a location pitcher, everything comes off the location of my fastball. If I can't throw that for strikes when I want, it's going to be a pretty long day for me. The main thing is going out there and working on my mechanics."