PORT ST. LUCIE, Fla. -- Infielder Zach Lutz already has started to get a crash course in the outfield. Now, Justin Turner has arrived. And he's about to see action out there, too.
The Mets need another righty-hitting outfielder along with Collin Cowgill. Marlon Byrd and Andrew Brown will be competing for the job as well.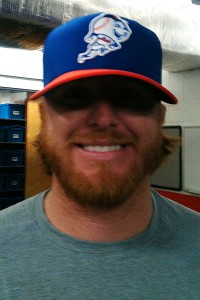 Adam Rubin
Justin Turner displays the Mets' new spring-training cap upon arriving at camp.
Barring the signing of Michael Bourn, the lefty-hitting outfielders are projected to include Lucas Duda, Kirk Nieuwenhuis and Mike Baxter.
"We talked about it at the end of the season last year," Turner said about a conversation with Terry Collins. "He told he wanted me to get out there, get some reps. I don't know if that means I'm going to be playing for a spot, or it's just another couple of positions to maybe get some more at-bats."
He has not played outfield since rookie ball in 2006 in Billings, Mont., when he appeared in four games apiece in left field and right field.
Turner being deemed capable of contributing in the outfield would allow the Mets to consider carrying Omar Quintanilla in addition to Brandon Hicks as backup middle infielders.
Turner is up for the experience, if only to maximize his at-bats. He had 487 plate appearances in 2011, but that number sagged to 185 last season.
"In 2011, when I first came up, I started as a role guy off the bench," Turner said. "And then, because of all the injuries, I ended up getting at-bats. So I've had a little bit of a taste for what [pinch-hitting] is all about. It's just last year I had to sustain it for the whole year. It was hard when you're only getting four or five at-bats a week. You've got to try to figure out a way to get ready and not give away pitches. It was definitely an adjustment, but it's part of the game. Somebody has got to do it."
Because of the diminished regular-season activity, Turner played 21 games in winter ball in the Dominican Republic. He hit .188 with one homer and 13 RBIs in 80 at-bats. He did not see any time in the outfield during winter ball.
"The main goal for me down there was just to get at-bats," Turner said.