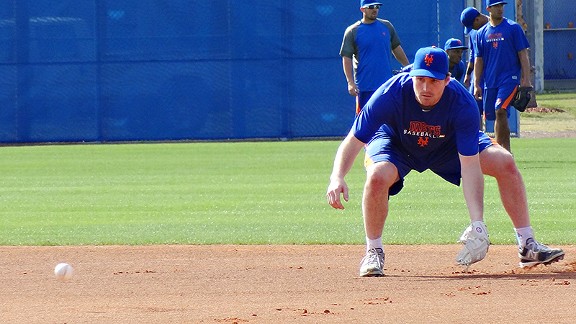 Adam Rubin
Daniel Murphy fields grounders in Port St. Lucie on Monday.
PORT ST. LUCIE, Fla. -- Daniel Murphy arrived at the Mets' complex Monday, a week ahead of the official position-player report date, armed with a wise crack.
"Even Ruben Tejada beat me down here," Murphy quipped. "Golly."
Tejada, who drew criticism from Terry Collins last February for reporting on time, arrived Friday from New York -- a day earlier than planned to avoid the teeth of the snowstorm that hit the Northeast.
The entire projected infield already has arrived in St. Lucie: John Buck, Ike Davis, Murphy, Tejada and David Wright.
"It means we're ready to work," Murphy said. "It will be a good chance for us to get a couple of extra days work on our own, be relaxed but kind of reacclimate ourselves to each other."
Murphy was getting acclimated to second base last spring training. He's not exactly an All-Star defensively now, but he feels infinitely more comfortable both in manning his position and his exchanges with Tejada.
"It's night and day. There's no doubt about that," Murphy said. "It was more of an adjustment on my part. I think I didn't really feel comfortable at second base until probably a month into the year. Ruben is as steady as they come. He always gives me good feeds. He's always where he's supposed to be. We should fall into rhythm a little easier this year."