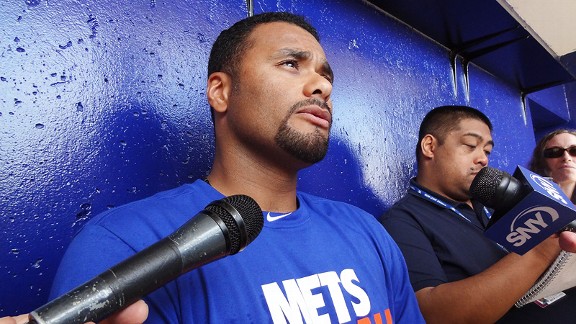 Adam Rubin
Johan Santana spoke to media Tuesday morning in Port St. Lucie.
PORT ST. LUCIE, Fla. -- Johan Santana watched the New York Mets deal Carlos Beltran at the trading deadline two years ago, when Beltran was in the final year of his contract and the team had faded from contention. Now that fate could be awaiting Santana this summer, as the southpaw's six-year, $137.5 million contract enters its final season.
Still, Santana insisted Tuesday, what might happen is the furthest thing from his mind.
"I don't think about it," Santana said. "I'm more about my health than anything. I just want to make sure I play throughout the whole season and help as much as I can. What's going to happen in the future, I don't really know. I've just got to stay healthy and see what the future will bring.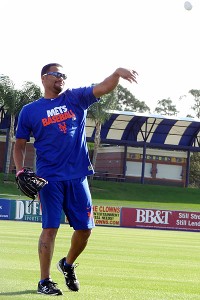 Adam Rubin
Johan Santana tossed on flat ground Tuesday. He will step on a mound soon.
"It's part of the game," he continued. "There's a lot of things in this game you can't control. That's one of them."
Reminded he has a no-trade clause that provides him some control, Santana added: "Still, those things are part of the game. We'll see where we're at and see how I feel and everything. I think it's more about health than anything. Time will tell. We'll see how everything goes."
Santana, 33, missed the entire 2011 season rehabbing from surgery to repair a torn anterior capsule in his left (pitching) shoulder. He returned last season to have a solid first half, highlighted by tossing the first no-hitter in Mets history on June 1.
In the next 10 starts after no-hitter until he was shut down for the season with lower-back inflammation, Santana had an 8.27 ERA. He allowed six or more earned runs in each of his final five starts, beginning with a game against the Chicago Cubs in which Reed Johnson stepped on Santana's right ankle while the pitcher covered first base.
Santana said his innings would have been limited anyway last season because he was returning from the shoulder surgery, but the ankle and subsequent back issue forced the timing.
"I think the ankle changed the whole thing," Santana said about the quality of his season.
Read the full news story here.