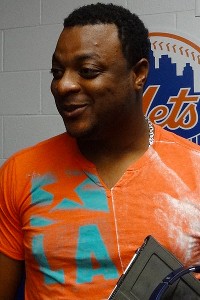 Adam Rubin
Frank Francisco speaks at Mets camp on Tuesday.
PORT ST. LUCIE, Fla. -- Frank Francisco is being held back from throwing because of right elbow inflammation. The closer finished last season idle with that issue, then had a bone spur surgically removed in December, after feeling a pinch and seeking a second opinion.
Terry Collins said the inflammation upon resuming throwing was not unexpected. Still, Collins said, Francisco has certain benchmarks to achieve during spring training in terms of his throwing program to be ready for the season.
Otherwise, Bobby Parnell would be the alternative as closer.
Brandon Lyon also is capable. Collins said LaTroy Hawkins and Josh Edgin also would get ninth-inning looks in Grapefruit League games.
Read the full news story here.