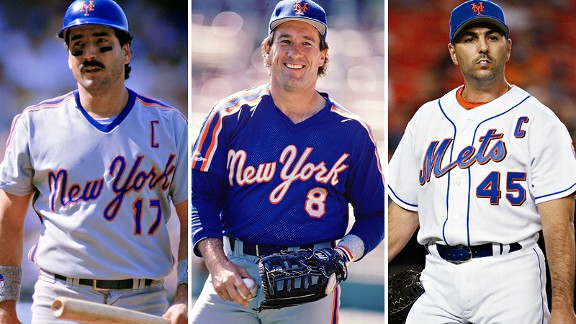 Getty Images
David Wright appears poised to join Keith Hernandez, Gary Carter and John Franco as the only captains in Mets history. The "C" might not be included, though.
PORT ST. LUCIE, Fla. -- The bottom line is David Wright pretty much is the captain anyway. And the Mets may very well name him as such during spring training, too -- without a formal press conference. But Terry Collins isn't sure the Mets need to stick a "C" on Wright's jersey as part of the role.
"I've been with David a couple of weeks and we really haven't talked about it yet," Collins said. "I'm going to, but like what Jeff [Wilpon] said -- he knows he's the guy. He knows he's the man here. This is his team. He's the face of it. He's the captain.
"Does he need a 'C' on his jersey? Uhh, No. 2 doesn't have a 'C' on his jersey," the manager continued, referring to Derek Jeter in the Bronx. "I don't think it's necessarily that important. Are we going to have a press conference to make David Wright the captain? I don't see one coming. That's not saying it's not going to happen."