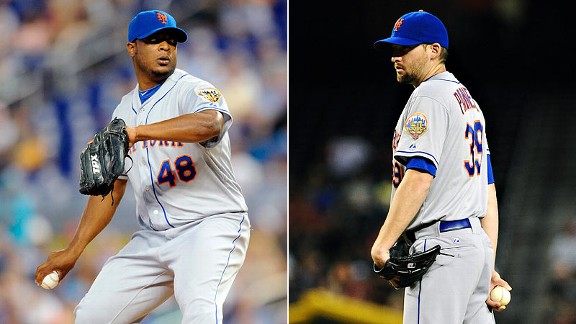 US Presswire
With Frank Francisco's elbow inflamed, Bobby Parnell could open the season as the closer.
PORT ST. LUCIE, Fla.
FIRST PITCH:
So Frank Francisco is the closer. Unless he isn't, in which case Bobby Parnell will handle the ninth.
Got it?
Last week, Francisco drove from Miami to Port St. Lucie to toss on flat ground at the Mets' complex and demonstrate his progress following December surgery to remove a bone spur from his right elbow. Terry Collins, who was among the audience that day, afterward pronounced Francisco the closer provided he is healthy.
Well, Francisco isn't healthy right now.
As Mets pitchers and catchers head outdoors this morning following a Collins speech for their first official workout, Francisco will not be cleared to toss a baseball.
Francisco has inflammation in his surgically cleaned pitching elbow.
So while no one is yet making this strong a pronouncement, the Francisco-to-the-DL-to-open-the-season watch officially is under way. And that means Parnell could be getting the ball in the ninth inning on April 1 against the San Diego Padres at Citi Field if the Mets have the lead.
Parnell has had multiple auditions as closer -- with varying results -- during his career, but his showing down the stretch last year was encouraging. He went 3-1 with a .196 opponent batting average and 0.51 ERA in his final 17 appearances of last season, which spanned 17 2/3 innings, including finishing games.
The trickle-down effect if Francisco were to start the season on the DL means a candidate such as Greg Burke could slip into the Opening Day bullpen. (See the opening roster projection here.)
Read more on Francisco/Parnell in the Post, Times, Star-Ledger, Record, Daily News, MLB.com and Newsday.
Meanwhile, although nearly all the position players have arrived, they officially do not have to report until Saturday. The first full-squad workout is Monday.
Wednesday's news reports:
• Johan Santana, who swooned after his June 1 no-hitter last season, plans to get on a mound as soon as today. It will mark the first time since being shut down last year with lower-back inflammation. Santana professed his health Tuesday, after a relaxing offseason. He professed not to be thinking about whether this is his final season -- or half-season -- as a Met. Santana will start Opening Day unless there is an unexpected spring-training derailment. Read more in the Journal, Post, Daily News, Star-Ledger, Record, Times, MLB.com and Newsday.
• Marc Carig in Newsday looks at the outfield. Or, as Sandy Alderson refers to it, "What outfield?"
• Andrew Keh in the Times notes Collins is a lame-duck manager, who professes no concern about his contract expiring at season's end. "I have nothing to prove to myself," Collins said during a Tuesday afternoon press conference to kick off spring training. "I love what I do. I have a blast in what I do. I think I do a pretty good job at it." Read more in the Star-Ledger.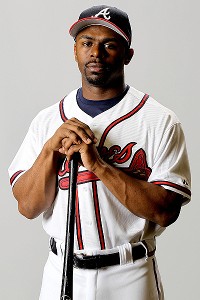 Matthew Stockman/Getty Images
Michael Bourn could have helped lame-duck Terry Collins.
• Jay Schreiber in the Times writes "there was always an air of unreality about the Mets' pursuit of" Michael Bourn.
Writes Ken Davidoff in the Post on the Bourn topic:
It took a resolution to Bourn's case to fully appreciate how remote the Mets' chances were of actually adding Bourn. They needed to 1) agree on financial terms with Bourn and his agent, Scott Boras, then 2) ask Bourn to sit on the sidelines for at least two weeks and keep his fingers crossed for 3) an arbitration hearing (regarding the draft compensation off a Bourn signing) to go the Mets' way, a result that was hardly guaranteed.
The only way Bourn would have signed off on such a long-shot game plan were if he had absolutely nowhere else to turn.
Alderson woke up Collins on Monday night to tell him the Mets did not land Bourn, writes John Harper in the Daily News. Writes Harper:
Collins ended his first day telling the Mets' inquiring media minds he knows he has to do better than last year when he had the Mets in contention the first four months of the season only to end up losing 88 games, three more than his first season. What he didn't say -- and presumably won't ever say -- is that it's not easy managing for 2013 when your boss is general managing for 2014 and beyond.
• Tampa Bay Rays GM Andrew Friedman praised the Mets' rebuilding effort. "The Mets have a tremendous amount of young talent,'' Friedman told Kevin Kernan in the Post. "I think those guys have done a tremendous job of acquiring some high-end young players that they can grow with, and I think that [front office] is extremely good at supplementing around those guys and also having enough good young depth.
"The one thing about young players is that they have tremendous upside, but they also have tremendous downside," Friedman cautioned, however. "There is far from certainty from these players. For us, it's our only way of doing business. It's not a choice. It's a survival mechanism."
• Mike Piazza, who is being very selective in his interviews, appeared on the MLB Network. On performance-enhancing drugs, Piazza said: "My histories of denial are documented all the way back to 1997, so I didn't think that was news coming into it." Watch here.
From the bloggers ... In the State of The Union of Mets Fans, Shannon from MetsPolice.com promises a Fan Fest within a year. … Since the Mets and Yankees open at home on the same day and interleague play is now throughout the season, The Eddie Kranepool Society believes they should have played each other on Opening Day. … Rising Apple notes "the grass isn't always greener."
BIRTHDAYS: Catcher Mike Nickeas, who went to Toronto in the R.A. Dickey deal, turns 30.
TWEET OF THE DAY:
@marccarig at what point of this speech is Obama going to address the Mets' outfield?

— dan celso (@dan_celso) February 13, 2013
YOU'RE UP: Who will close on Opening Day if the Mets have a lead?
Please use the comments section to weigh in