PORT ST. LUCIE, Fla. -- As much as the draft-pick compensation issue was highlighted as an impediment to signing Michael Bourn, Sandy Alderson said Wednesday that a fifth-year vesting option based on performance offered by the Cleveland Indians also proved a stumbling block.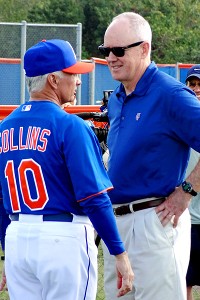 Adam Rubin
Sandy Alderson speaks with Terry Collins on Wednesday morning in Port St. Lucie.
"There were two issues," Alderson said. "One was the fifth-year vest, which we viewed as a fifth year in the contract at the levels we were talking about, or that they were talking about. We weren't prepared to go to five years, and they had known that for some time. The vest was a big issue for us.
"With respect to the draft pick, I think early on we felt that not only we had a good case, but also that MLB might be amenable to a reinterpretation of that rule. That turned out not to be the case later on. So there really were two issues. We didn't get to the draft-pick issue because of the vest."
A source told ESPNNewYork.com this week that the Mets' and Indians' guarantees to Bourn over four years -- roughly $48 million -- were basically identical.
"There's some disappointment, obviously," Alderson said. "We made a strong effort to try to sign him and weren't able to do it, which is unfortunate. But, nonetheless, we move on."
Alderson said the Mets are probably done adding outfielders at this point and need to be content with what they have. He added that he routinely monitors what becomes available during spring training. He was not predicting anything would materialize.
"Look, we're going to go into spring training with what we have once the players report and arrive," the GM said. "There's great opportunity here. In the meantime, we'll keep an eye on what's happening in this camp and happening elsewhere. But I'm certainly not going to write off the guys we have here. This is about opportunity. And you never know how someone is going to take advantage of opportunity. We've got lots of time and I'm looking forward to seeing them out there. ...
"We'll continue to talk to other clubs. But I think realistically we have to say to ourselves, 'Look, this is what we have. This is what we need to get ready. These are the players upon whom we're going to have to rely.' But every team is always looking to improve, whether spring training or not."