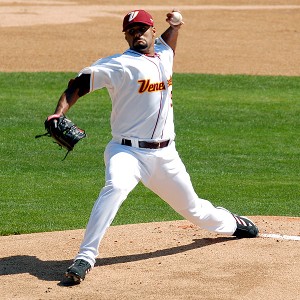 Phelan M. Ebenhack/Associated Press
Johan Santana represented Venezuela in the World Baseball Classic in 2006.
PORT ST. LUCIE, Fla. -- Sandy Alderson noted Wednesday that the Mets have veto power over whether Johan Santana pitches in the World Baseball Classic.
Because its a sensitive topic considering Santana's popularity in Venezuela, Alderson did not come out and say the Mets would nix the southpaw's participation. But he came close to implying as much. And team insiders paint it as unlikely Santana will don the Venezuelan uniform in the March tournament.
Santana actually has another hurdle, too. Because he finished last season on the disabled list, a World Baseball Classic committee would have to agree to insure his contract -- no sure thing in itself.
"It's a complicated situation, just because of his injury and the fact that he did not pitch at the end of last season," Alderson said. "As a result, he has to go through a physical and a review panel. But ultimately he needs our permission to play. And what we're going to do is take a look at it over the next few days. ... But we're very concerned that he'd be ready to go and healthy for us. And so there are reasons why players in his situation [injury-wise] at the end of a previous season typically don't play in the WBC. So we'll have to take a hard look at it."