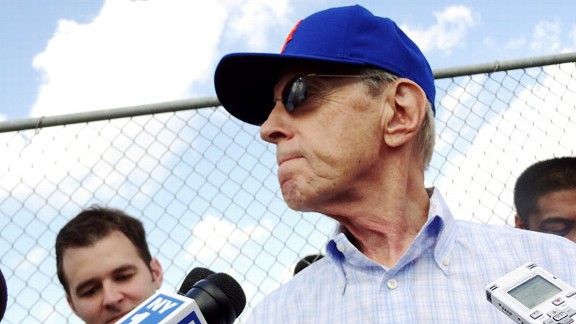 Adam Rubin
Fred Wilpon addressed the media on Wednesday in Port St. Lucie.
PORT ST. LUCIE, Fla. -- New York Mets principal owner Fred Wilpon said his family is free and clear of past financial woes and that general manager Sandy Alderson has the financial flexibility to make major free-agent signings in upcoming offseasons.
Wilpon, 76, favorably settled a lawsuit brought by the trustee trying to recover funds for victims of Bernard Madoff's Ponzi scheme.
He added that the family's improved financial complexion also is the result of the rebound of real estate, his primary business, as well as stock-market gains and SportsNet New York, in which the family owns a majority stake, thriving.
"It's all in the rear-view mirror," Wilpon said about past financial woes Wednesday, after arriving at the team's spring-training complex. "… The family is in great shape. The family really is in great shape. Sometimes luck is the residue of design."
Read the full news story here.