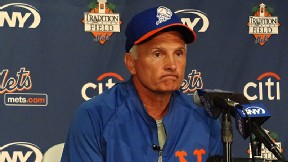 Adam Rubin
Terry Collins expressed happiness with what he saw on Day 1 of official workouts.
PORT ST. LUCIE, Fla. -- Terry Collins said he was pleased with what he saw on Day 1 of pitchers and catchers official workouts.
"I really think the guys were anxious to get on the field and eager," Collins said. "They moved around great. I really enjoyed what I saw this morning conditioning-wise.
"I went out in the bullpen and watched a couple of guys I've never seen before throw. It was interesting. It was interesting to see [submariner Greg] Burke. I wanted to see [Shaun] Marcum and Brandon Lyon. That was fun. Otherwise, it's about getting those arms in shape."
As for his mentality, Collins added: "I take this game pretty seriously. I take what I do pretty seriously. I'm sorry. And I've gotten beat. And I've had some rough years in the minor leagues, in the major leagues. You know what? There's not a time when I don't think I can compete, that my team can't compete. An object of this is to make sure you've got a chance to compete. Winning, you don't ever know what the answer is going to be.
"As I look at the roster, gosh, I like our five starters. Do they have to stay healthy? Yeah. Of course they do. You've got to like what's coming behind them. I don't look pretty much past tomorrow. I watch today and I worry about what I've got going tomorrow, because the following day I don't know what's going to go on. But I think we've put together some guys that give us a chance to compete.
"I told the pitchers: Look, we've got a lot of guys in here. We've got some young guys. We've got some older guys. There's no guaranteed jobs. There's jobs open here. ... Who wants them?"