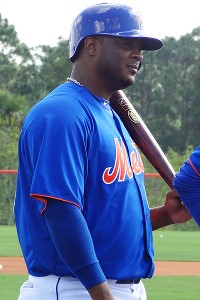 Adam Rubin
Frank Francisco is unable to throw, but he did have a bat in hand Wednesday, during the first official workout.
PORT ST. LUCIE, Fla. -- Frank Francisco will not pick up a baseball for two weeks, Terry Collins said Wednesday afternoon.
The manager added that he could envision a scenario in which Francisco is on the active roster Opening Day but Bobby Parnell is deemed the better closer and would handle the ninth inning.
"Very possibly," Collins said. "I'm not saying that can't happen. It could be a great scenario to start the year with the guy who is the most ready. And then when we know Frankie is ready, he's there."
Francisco did participate in pitcher fielding drills Wednesday, during the first official pitchers and catchers workout.
"It's going to be a little while before he throws," Collins said. "He's got some swelling in there. He's pretty tender. Due to a very tough winter for him personally, he's a little behind in a lot of the rehab stuff. And the fact that this has flared up on him, it's going to drop him back a couple of weeks. As I told him when I talked to him, I said, 'Look, we've got to get somebody ready. If you're not ready to leave this camp 100 percent, which that's the way it's got to be, we've got to have somebody ready. And that guy is going to be Bobby Parnell.' And he said he totally understood. And he looked me in the eye and said, 'I'm going to be ready.'"
If Francisco is on the DL to start the year and Parnell is the closer, Brandon Lyon very likely would handle the eighth inning, Collins added.