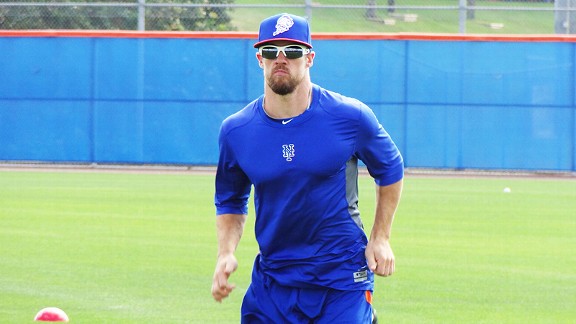 Adam Rubin
Collin Cowgill runs during voluntary position-player drils Wednesday.
PORT ST. LUCIE, Fla. -- As a high school senior, Collin Cowgill was named Mr. Baseball in his native Kentucky, an honor that previously had gone to Austin Kearns and Brad Wilkerson. Let's just say the treatment did not match being bestowed with Mr. Basketball in the state.
"It's no comparison," Cowgill said Wednesday at Mets camp, before taking part in a voluntary position-player workout. "Mr. Baseballs don't get much love, man. We get a little spot in the newspaper and that's about it. Mr. Basketball, you sign autographs for the next 20 years of your life."
In fact, when Cowgill wanted to play Southeastern Conference baseball at his hometown school, the University of Kentucky, the coaching staff tried to dissuade the diminutive Mr. Baseball. They advised him it was in his best interest to pursue other options, which "fired me up," according to Cowgill.
He ultimately enrolled and thrived there. UK won its first-ever SEC title, and Cowgill eventually was drafted in the fifth round in 2008 by the Arizona Diamondbacks to prove the initial skepticism wrong.
"Kentucky is in my back yard and I wanted to play there," Cowgill said. "I'm a 5-9, 190-pound guy. That's kind of the way it is. But I enjoy that. People can say what they want, but you've got to live up to your own expectations and not everyone else's. It was probably the best thing that ever happened. When they tell you that you can't do something, you try harder to do it."
That sounds like a theme for the Mets' outfield -- or "What outfield?" as Sandy Alderson said during the offseason. Cowgill is projected to platoon in center field with Kirk Nieuwenhuis.
"For sure," Cowgill said. "Nothing is ever guaranteed, especially in this game. I just want to come in here and show what I can do."
Cowgill actually is 2-for-2 as a big leaguer in being involved with teams with low expectations that won division titles -- the 2011 Diamondbacks and 2012 Oakland Athletics. The odd-man out in Oakland, he was traded to the Mets for minor league infielder Jefry Marte on Dec. 18.
"Both teams won the division," Cowgill said. "It's an amazing feeling. With a team like Oakland, a team like Arizona, they were picked to finish dead last in the division.
"It's fun to watch everyone jump on board with what you guys had already known you were capable of. It's really clichéd to say, but if you believe your team can do it, if you believe your team is good enough to win, then you will. No matter what people say about any team, it doesn't matter until September is over and playoff rosters are set."
Cowgill, 26, hit .269 with one homer and nine RBIs in 104 at-bats with Oakland last season. Despite the limited involvement, he was credited with one of the moments that jumpstarted the A's season -- May 20 at Oakland, when he scored from second on a wild pitch. Cowgill collided with Tim Lincecum, who was covering home plate. (Watch the video here.)
"I didn't mean to smash into him," Cowgill said. "I saw an opportunity to try to score from second and that's what I did. I don't mind having a little contact here and there. I said from the beginning of my career that my job as a baseball player is to do everything I can to help the team win. If that's to get hit by a pitch or to run into a catcher or take someone out at second or dive into a wall, that's my job and that's what I'll do.
"That's just the way I play."