PORT ST. LUCIE, Fla. -- Right-hander Scott Atchison missed two months of last season with the Boston Red Sox with a torn elbow ligament, then was non-tendered in December. He since has signed a minor league deal with the Mets and is a favorite to earn a bullpen spot.
Atchison feels like the five September appearances he made with the Sox after returning from the DL validated to himself and others he is capable of performing at his pre-shutdown level.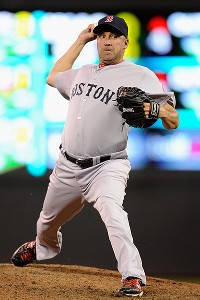 Hannah Foslien/Getty Images
Scott Atchison missed two months last season with the Red Sox with a ligament tear.
"I got back and I felt normal in the five outings I made in September," Atchison said Wednesday. "I was able to throw multiple innings in a couple of those outings and different things to prove to myself that I was fine. I haven't had any problems getting going here. So I feel like I'm where I need to be, just like I would be any other spring, and I'll go about it normally."
Overall, Atchison, 36, went 2-1 with a 1.58 ERA in 42 relief appearances last season.
He said he seriously weighed undergoing Tommy John surgery once the injury flared up last summer, but things have worked out without the elbow procedure.
"When they first saw it, the first reaction was, 'You're probably going to need surgery,'" Atchison said. "But they were like, 'Let's go down and see [Dr. James] Andrews before we make any rash decisions.' I didn't really know. Most of the symptoms had really gone away after a couple of days. So when I got down there and saw Andrews, he just kind of explained that, 'Hey, look, you had this tear. It's been there for a while. It's gotten maybe a little worse over some time. But I don't know if that's been two years, one week, one month.'
"I didn't feel anything on one pitch, and that was the biggest thing. It was just I woke up the next morning and it was sore. He felt like it was worth giving a shot to try to throw through it in my situation because he was like, 'You've been throwing with the tear there for a while. If I were you, I'd try it out.'
"We rested another three weeks and then progressed through the program. I didn't have any problems, so we kept going forward."
As for his 2012 season, Atchison labeled it his best as a major leaguer. He has appeared in the majors during parts of six seasons, with the Seattle Mariners, San Francisco Giants and Boston.
"It was my best year over here, for sure," Atchison said. "I had a pretty good year in Japan my second year (2009, with a 1.70 ERA in 75 relief appearances). As far as over here and having a chance to pitch all the time, it was a good year. Unfortunately I missed two months of it with an injury, but I felt like I was able to come back and still finish strong. It was important to me and important, no matter what was going to happen in the offseason, to show that I was healthy at the end of the year. So I should be all right."