PORT ST. LUCIE, Fla.
FIRST PITCH: Fred Wilpon lit up Twitter with his address to media on Wednesday at the Mets' spring-training complex.
Wilpon, 76, said his family is free and clear of past financial woes and Sandy Alderson will have the latitude to restore payroll to Omar Minaya-era levels (as much as $140 million to $150 million) if the market dictates it and Alderson believes it is wise.
Wilpon downplayed the impact of Bernard Madoff's Ponzi scheme on the recent payroll swoon, suggesting the streamlining had a lot to do with the organization needing to be lean so that bank debt could be paid off.
Columnist Ken Davidoff in the Post says talk is cheap. Spend and prove it. Writes Davidoff:
We will believe the Mets are once again a big-market team only when we see it. And if we don't see it, then we will be free to question once more whether Wilpon should be running one of baseball's jewel franchises …
Next November's free-agent class likely will include a pair of current Yankees, Robinson Cano and Curtis Granderson, as well as outfielders Shin-Soo Choo and Jacoby Ellsbury. We know the outfielders would fit the Mets quite well, and though Daniel Murphy has become a modest asset, his presence shouldn't block a Cano pursuit.
All four of these players will be on the wrong side of 30 by the time they enter the market. So there will be risk attached. Nevertheless, the Mets owe it to themselves and to their fans to seriously engage in this arena. For real. No conditional discussions. Bona fide, big-time, market-appropriate offers.
Read more on Wilpon's interview in the Journal, Star-Ledger, Post, Newsday, Daily News, Record, Times and MLB.com.
And please join me for a 2 p.m. ET Mets chat here.
Thursday's news reports:
• Frank Francisco was unable to properly rehab from December surgery to remove a bone spur in his right elbow because of family circumstances. Francisco told Mike Kerwick in the Record that a grandfather died, his father had a health issue and the reliever's son was born prematurely with complications, although the newborn's situation has improved.
Francisco will be unable to throw a ball for two weeks. Terry Collins phoned Parnell on Tuesday night to inform him to be prepared to be the closer to open the season. Collins said Parnell may close Opening Day even if Francisco is on the active roster to start the season. Read more in the Daily News, Star-Ledger, Newsday, Post and MLB.com.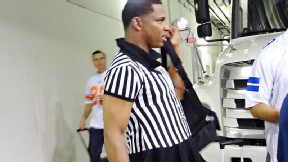 Adam Rubin
Jenrry Mejia's entry into the United States has been flagged for review.
• Jenrry Mejia's visa issue is the caused by the U.S. consulate in the Dominican Republic wanting to verify his age and identity. Alderson said he believed the scrutiny was random, not out of suspicion about Mejia. A major league source unaffiliated with the organization concurred that Mejia was not flagged over any specific concern. Read more in the Star-Ledger, Daily News, Newsday and MLB.com.
• Alderson said the attainable fifth-year vesting option Michael Bourn received from the Cleveland Indians was something the Mets were unwilling to match. Read more in the Star-Ledger and MLB.com.
• The amount the Wilpons will owe the trustee in the Bernard Madoff clawback lawsuit settlement is down to $86 million -- and falling.
• Alderson acknowledged the Mets can nix Johan Santana's participation in the World Baseball Classic. That sounds like the team's plan, although Alderson would not explicitly say that Wednesday, presumably because it is a sensitive topic, particularly to passionate baseball fans in Venezuela. Santana also would need to have his contract insured by the WBC in order to participate, which is not a slam dunk. Read more in the Star-Ledger and MLB.com.
• R.A. Dickey gave 60 Minutes a knuckleball tutorial Wednesday, writes Wayne Coffey in the Daily News. Tyler Kepner in the Times also visits Dickey.
• Israel and Honduras will play a socccer friendly at Citi Field on June 2, a source tells ESPNNewYork.com.
From the bloggers ... Mets Police notes the 11th pick in the draft can yield Dave Kryznel or Andrew McCutchen. … The Eddie Kranepool Society hopes Fred Wilpon is on the level, but is skeptical.
BIRTHDAYS: Catcher Kelly Stinnett, whose two stints with the Mets were separated by a decade, turns 43.
TWEET OF THE DAY:
Hard to believe. Finally found a hat to fit my size 8.5 inch head. In all honesty, still a little tight. twitter.com/Jay_HorwitzPR/…

— Jay Horwitz (@Jay_HorwitzPR) February 14, 2013
YOU'RE UP: Which free agent should the flush-wish-cash Mets most aggressively pursue next offseason: Robinson Cano, Curtis Granderson, Shin-Soo Choo or Jacoby Ellsbury?
Please use the comments section to weigh in