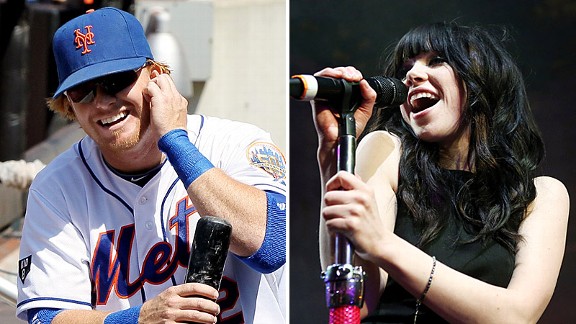 Getty Images
Justin Turner and Carly Rae Jepsen are over, according to the Met.
PORT ST. LUCIE, Fla. -- Justin Turner is over Carly Rae Jepsen.
Turner, whose use of "Call Me Maybe" last season as his music before at-bats generated quite a bit of buzz, expects to make a change for 2013.
"It'll probably be something new, but I'll keep it in the back pocket," Turner said about Jepsen's tune.
The motivation?
Said Turner: "She didn't win any awards with it. ... No, I'm kidding. ... I just wanted her to thank me in her acceptance speech."
Turner said he has become extremely identifiable with the song.
"I get three or four tweets a day: 'Hey @redturn2, I just went into the gym and 'Call Me Maybe' was playing,'" Turner said. "I just like to keep it new every year and fresh and mix it up."