PORT ST. LUCIE, Fla. -- The Mets have had no shortage of sidearm- and submarine-style relievers during the past decade, including Chad Bradford, Pedro Feliciano, Joe Smith and Darren O'Day.
The latest is a project of former Mets pitching coach Rick Peterson.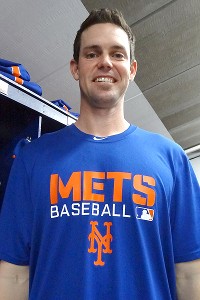 Adam Rubin
Greg Burke
Right-hander Greg Burke converted to the submarine motion at the end of spring training last season with the Baltimore Orioles, where Peterson serves as minor league pitching coordinator.
Now the 30-year-old Burke is in Mets camp, with a legit shot at making the Opening Day bullpen assuming Frank Francisco opens the season on the DL and a spot opens alongside projected relievers Bobby Parnell, Brandon Lyon, Josh Edgin, Feliciano, Scott Atchison and LaTroy Hawkins.
One indication of how high the Mets are on Burke: They signed him quickly to a minor league deal last offseason, then shortly thereafter took the unusual step of adding him to the 40-man roster.
After signing with the Mets on Nov. 7 (four days after officially being granted free agency), Burke started dominating in winter ball in Mexico. The Mets became concerned they might lose Burke in the Rule 5 draft, so they added him to the 40-man roster. Burke eventually finished winter ball with a 3-1 record and 2.23 ERA. He converted all 11 save chances with Obregon.
Assistant GM John Ricco, who has been with the Mets nearly a decade, could not recall another instance in which the club signed a player as a minor league free agent and then added him to the 40-man roster within weeks for Rule 5 draft protection.
"The reports we were getting were a lot of people were watching him," Ricco said. "Then you start to say, 'OK, is this guy somebody someone might take?' That has happened, where guys have been taken. It's rare, but that was what we were worried about. Usually it's with a guy in winter ball. Here, where the guy is continuing to pitch and doing better and better, you get a little nervous."
Said Burke about being added to the 40-man roster: "I did not think that was going to happen, especially being a minor league free agent. There's no reason for it. Very uncommon, especially at my age. I was, for sure, pumped."
Sandy Alderson and Paul DePodesta knew Burke from their days with the San Diego Padres.
After playing college ball at Duke, Burke played in the independent Atlantic League with Atlantic City in 2005. San Diego then signed him, and he rose all the way to make 48 relief appearances with the Padres in 2009, during his lone major league season.
Burke switched to dropdown at the end of spring training last year for the obvious reason -- his career was at a crossroads after he had a 5.70 ERA in 2011 at Triple-A Tucson.
"I had to get outs," Burke said. "I was getting a little older."
Splitting last season between Double-A Bowie and Triple-A Norfolk, Burke showed an aptitude for the dropdown style. He produced a combined 1.53 ERA in 44 relief appearances. Burke said his velocity "surprisingly" is comparable to the 90-91 mph it was as a conventional pitcher.
"Really, it was like the first day I just kind of got it right away," said Burke, who originally was drafted by the Mets in the 42nd round in 2000 out of Gloucester Catholic (N.J.) High. "When things aren't going well, sometimes you've got to adapt."
Burke is unconventional even by submarine standards. Often, righty sidearm/submarine relievers will overwhelm righty batters with a sweeping motion away from the hitter from the awkward angle.
Burke actually has two types of fastballs from that angle -- a two-seamer that dives and a four-seamer that bores in on the righty batter rather than veers away.
Anthony Recker, who caught Burke's mound session Wednesday, noted the submariner Burke also has a different release point than most others like him. Burke releases the ball from close to his body, as opposed to others who reach much farther away.
"He kind of clears his hips and dips under and it literally comes out from almost right next to his leg," Recker said. "He should be able to use that four-seam and run it in on righties really well. A righty, I don't think, will have ever seen that kind of an angle coming from a pitcher. It's not quite the same as coming from a lefty, obviously, but you're getting that kind of angle with a lot of run on it. I think it could definitely work for him."
Said Burke: "I mean, I've seen some tape of me. It looks a little funky. So I'm sure that's what hitters see, too."